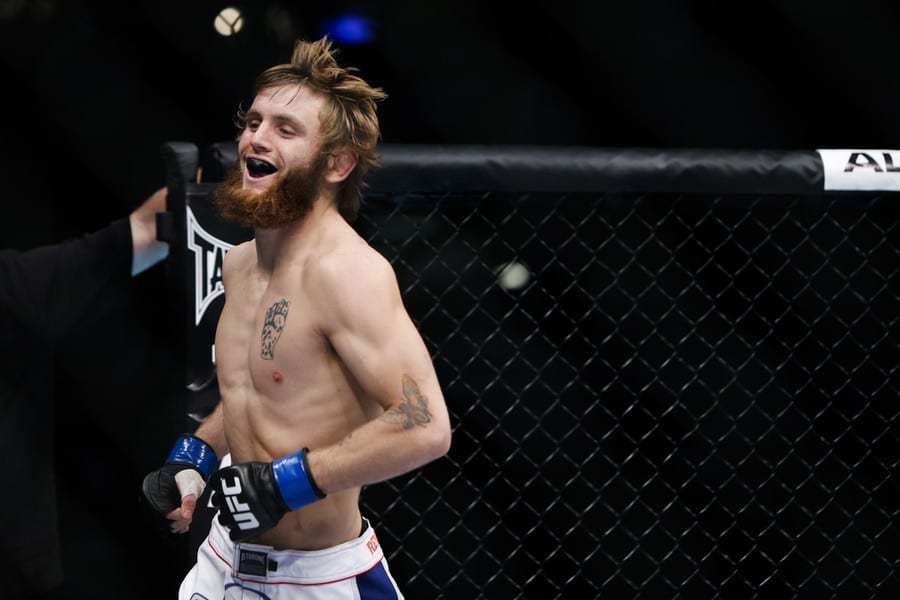 For a few minutes on Saturday night it looks as if we might be witnessing one of the biggest shocks in the history of mixed martial arts.
Tm Elliott, the rangy underdog with a 2-4 UFC record, earned a shot at the UFC flyweight title after winning the 24th season of The Ultimate Fighter, pipping 15 other regional champions to the opportunity. Opposite him, Demetrious Johnson carried his belt to the cage for ninth time in the UFC. Johnson has milled his way through the division like a buzzsaw and successive number one contenders haven't been able to muster any answer to Johnson's multi-faceted attack.
After the first round in Las Vegas between the two, it looks as though Johnson may finally have met his match. The champion survived numerous submission attempts from the challenger, notably a guillotine and a D'Arce choke — both of which appeared tight — but as the fight wore on, Johnson rallied and eventually asserted himself into the fight.
Elliott came as close as anyone has to defeating Johnson at 125-pounds. But now, as his credentials have been established at flyweight, Elliott is casting glances to the bantamweight division.
"I'd like to go to 135", he said after the fight. "The weight cut killed me. I really struggled in this weight cut. Actually, the morning of the weigh-ins I was hurting pretty bad. It was the first time I've ever told my coaches I was done. I told James Krause (Elliott's head coach) that I wasn't going back in the sauna.
"I told him I would give up the 20%. I didn't care about the belt. He made me get back in there. He made me cut the weight. I appreciate that he did that. Everything about this sport is fun for me. I do it because it's fun. It doesn't pay that well, so I feel I could really compete at 35. I'll do better there when I feel good and I feel strong.
"I was hurting after the first round. Not my cardio, but my muscles…my stomach. I was cramping a little bit. I know that was from the weight cut."
It's odd to hear a fighter speaking with such candour as to his weight cut. If Elliott had indeed abandoned his weight cut, he would have followed in the footsteps of Travis Lutter — the TUF winner who was unable to make weight for a title bout with Anderson Silva in 2007.
It will be interesting to see Elliott compete at bantamweight. The bigger competition in that division may neutralise some of his natural advantages and he hopes that his increased profile may lead to some interesting bouts at 135-pounds but as for precisely what's next, Tim Elliott is leaving that to the UFC.
"(UFC President Dana White) told me I wasn't going anywhere," he said. "But you know, I got told that before. (UFC matchmaker) Sean Shelby told me after my John Dodson fight that if I fight like that, I'll always have a job in the UFC. And then, a couple fights later, I was cut.
"But I don't really care too much about that. If they don't want me here, then I can get fired here, and I'll go fight somewhere else. I'm going to fight no matter what. It doesn't matter if it's for the UFC or anywhere else, I'm going to go out on my shield and give it everything I've got."
Comments
comments