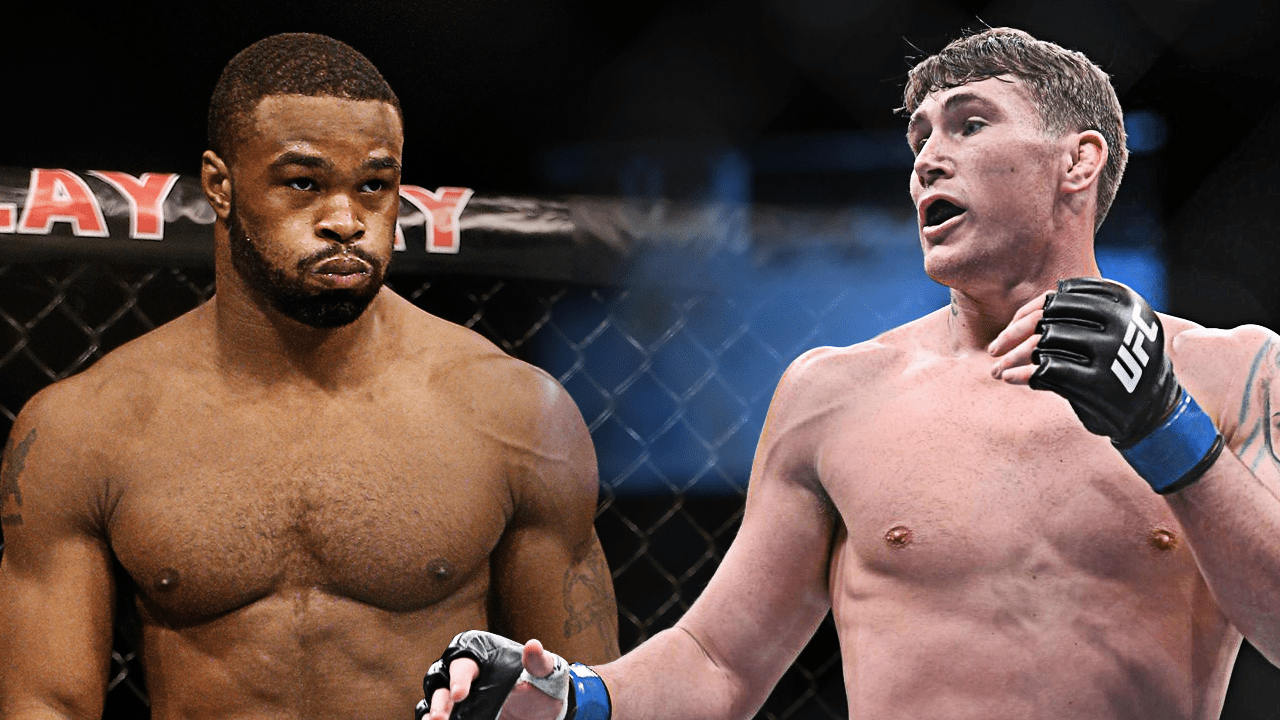 Even though he is just 25 years old, there has been a sense of inevitability to Darren Till fighting for a UFC world title.
Till's name had long been mentioned in hushed tones among the European MMA community. His reputation was a mysterious one to many because instead of him cropping up on regional circuits throughout Europe the Liverpudlian was plying his trade exclusively in Brazil, a sort of protracted penance imposed on him by his coach Colin Heron after the teenager nearly lost his life after being stabbed twice in the back during a nightclub brawl.
Already in possession of a fearsome reputation as a Muay Thai competitor, Till undertook his transition to professional MMA entirely in Brazil. He won his first three amateur bouts before a pro debut in February 2013.
Between that fight and the following November, Till went 8-0 with seven stoppages. By the time the UFC came calling (on nine days notice, incidentally) he was 12-0. He defeated Wendell de Oliveira by second round stoppage and finally the Scouser, now fluent in Portuguese, had made an impact worthy of his burgeoning reputation.
Till's reputation has grown steadily since. His sole misstep inside the octagon, a draw with Nicolas Dalby in Dublin in October 2015, was predicated almost entirely on a shoulder injury he suffered in the second round which would ultimately keep him out of action for the best part of two years but since that exile has ended, Till has appeared to be a man possessed inside the cage.
Decision wins against Jessin Ayari and Bojan Velickovic followed, but it was the first round destruction of Donald Cerrone in Gdansk last October which made made headlines across the globe.
'Cowboy' admitted in the build-up that he didn't know who Darren Till was, a sentiment which was unfortunately echoed by some sections of the sport's media but the brief performance — all four minutes and 20 seconds of it — was enough to incite a movement behind the fighter which has only been strengthened by his everyman personality.
On Saturday, and just four months removed from a close decision win against two-tine title challenger Stephen Thompson, he faces the best welterweight in the world, Tyron Woodley, for a world title.
STYLE BREAKDOWN
The champion is a difficult puzzle to solve. Stephen Thompson, who like Till is among the best pure strikers at 170-pounds, had problems unlocking Woodley's defence and was caught with by Woodley's incredibly powerful counter-strikes on more than one occasion.
Till, though, is usually a far more aggressive fighter than Thompson and routinely uses his footwork and aggression to force his opponent to retreat to the cage. This is where Till does his best work. The short left elbow that both Cerrone and Ayari succumbed to is an undervalued weapon in mixed martial arts and Till uses it supremely.
Woodley can be unusual in that he isn't adverse to retreating and giving up ground. However, he does possess an almost surreal ability to burst forward and close the distance and even if his punches are sometimes wild, if they connect to your chin the trajectory they took to get there doesn't particularly matter.
Woodley can also boast a significant wrestling advantage. Till hasn't yet faced a grappler of Woodley's pedigree and it will be interesting to see if he can put the Englishman on his back, somewhere we haven't seen very much of him just yet. All that said, Till hasn't displayed anything other than a more than adequate sprawl for the challenges that have been presented to him thus far.
THE PICK
The fact that Darren Till weighed in at 169-pounds, essentially as a less-than-discreet 'f**k you' to those who had been forecasting his woes on the scales, might suggest that he is going into this fight with the primary intention of proving his doubters wrong.
His last fight with Stephen Thompson was more of a tactical battle than an all out war and it stands to reason that he wants to seize the title from Woodley, more so than eek it out over five rounds. If he comes out like a house on fire in round two, after a controlling distance and timing in the first, he will likely look to end it before the end of the third.
But as Tyron Woodley would probably say, he has heard all of this before. Woodley often bemoans that he is one of the least-respected champions in the UFC and given his lengthy list of achievements it is easy to understand where he comes from.
Beating a young, brash contender like Darren Till would be one of Woodley's career achievements but at 11 years his challengers' senior, it remains to be seen if Father Time will have any say in his performance.
It is notable that the one time that Woodley was finished by strikes (by Nate Marquardt six years ago) was when he was trapped with his back to the fence, one of Till's most favoured positions. Woodley will have gameplanned this situation to a tee but Till's craftiness mustn't be undervalued.
Look for Darren Till to isolate Woodley's movement options, set traps and catch Woodley with a huge counter left in the third round.
Comments
comments