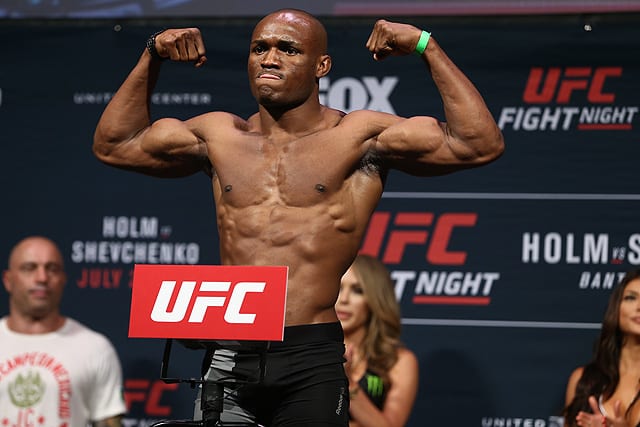 When Kamaru Usman makes the walk this weekend in Las Vegas to defend his UFC 170-pound title against brash challenger Colby Covington, he could be forgiven for pinching himself. 
It was back in March when Usman stifled then-champ Tyron Woodley en route to a clear-cut unanimous decision win. Since that moment, Usman has been forced to sit on the sidelines somewhat due to reoccurring instances with injury. However, sitting idly by is a little easier to do if you have already made it to the summit of the mountain.
A couple of years ago, he had not. Usman's reputation as being a dominant wrestler, along with a fiercely effective style of controlling his opponents, meant that the task of actually arranging a fight was easier said than done. So frustrating was he on-off career in 2017 & 2018 that he said he came close to calling a halt to his mixed martial arts career.
"There were moments in the UFC where I thought about quitting fighting because there were moments where I couldn't get a fight," Usman said to TSN's Aaron Bronsteter via BJPenn.com.
View this post on Instagram
"I was very close. I went six or seven months of just sitting there trying to get somebody to fight. The organisation said 'that guy turned it down, and that guy turned it down.' And I just said 'You know what? There's no point.'
"Everyone made up a different excuse. 'He needs to beat someone in the top 10 first. He's not a good fighter or he's boring.' No one wanted to let me in the party," Usman continued. "The organisation was not necessarily taking the steps and the efforts to get these guys to fight me. They knew what would happen, that I would be the welterweight champion of the world. Which is what I am right now."
Usman eventually did get a path to the title via successive wins against Emil Meek, Demian Maia and Rafael Dos Anjos prior to his title-winning performance against Woodley earlier this year and ahead of this weekend's UFC 245 title defence, he says that Colby Covington was one of those names he frequently wanted to part of him.
"Part of [the frustration] was my opponent that I'm fighting. He was offered to me several times. Four times to be exact, and he's turned them all down."
He gets his chance Saturday night.
Comments
comments