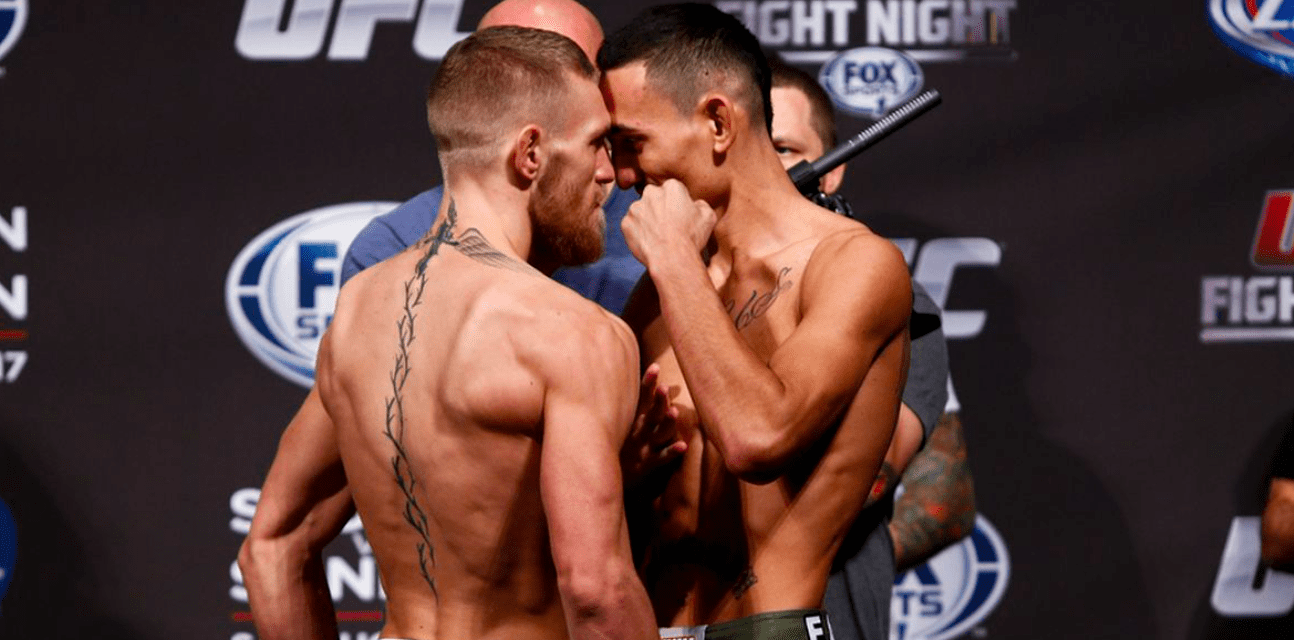 "From Ireland, one UFC fight and this place is on its feet. I know this is Boston, and I know that they're Irish… I grew up here, I know they go crazy for anything Irish but this is something unusual. This kid's got something."
Joe Rogan knew something was different when Conor McGregor made the walk for just his second UFC appearance inside Boston's TD Garden on August 17, 2013. For one, McGregor — who had burst onto the scene with a blistering knockout of Marcus Brimage four months prior — was given the 'blackout' treatment for his walkout to face fellow future world champion Max Holloway, a reception usually reserved for fighters who have already had a gold strap adorn their shoulder.
McGregor, of course, was already a world champion. Eight months before this he had flatlined Ivan Buchinger to claim the Cage Warriors lightweight world title to add to the featherweight belt he had quite literally squeezed out of Dave Hill the previous June — a feat he would go on to match just three years into his UFC tenure.
When the house lights were raised, and when that first bell rang, it was clear that the Dubliner was a step above his Hawaiian opponent. Holloway, a lengthy, rangy featherweight employed a style which suggested he was prepared to go blow-for-blow, and this was the only invitation that McGregor required to employ a list of of strikes from all angles, added to flying knees and spinning kicks to flummox the future UFC champion.
A turning point could have come in the second, however, when Holloway managed to contort McGregor's leg into an odd angle while working from his back, tearing his ACL in the process. The injury, which would keep him on the sidelines for the following ten months, would likely have been a fight-ending one to many, but losing wasn't a consideration in what was McGregor's stateside debut.
In the third, McGregor employed a grappling heavy approach and easily controlled Holloway on the ground for much of the frame, perhaps showing a chink in his armour just once when he 'bad' leg appeared to momentarily give way when he blocked a Holloway high kick — and when the time limit expired and the judges decision was read aloud, it was a conclusive victory for McGregor, with one scorecard even awarding him a 30-26 margin of victory.
View this post on Instagram
"I wanted to keep him standing and put him away," McGregor explained afterwards. "But in the second round I caught a kick, tried to advance it past his half-guard…he caught my leg in an awkward position and bridge and rolled, and my whole knee just popped out midway through that second round.
"When we stood back up, I was just wobbly on it. That's why in the third (round) I had to change it up and look for the take-down. I'm not happy I didn't get the finish.
"I knew Max was a tough competitor and I knew he was going to give me some great exchanges and he did. But midway through the second I got that injury. You must improvise, adapt and overcome because anything can happen inside this octagon."
And as for that raucous support which provided the soundtrack for not just his walkout but the majority of the fight, McGregor was thankful.
"It's crazy," he said. "I'm lost for words. This support is unreal, thank you everyone so much."
McGregor would again fight in Boston a little over a year later against Dennis Siver in what was a pit-stop along the way to his ravaging of the featherweight division, first against Chad Mendes and then against Jose Aldo. And then the accolades kept coming: fighter of the year, knockout of the year… and then there are all those box office and pay-per-view records.
And while that recognition seems inevitable in hindsight, much of that momentum became a reality when he made that walk for the first time in Boston eight years ago today.
"This kid's got something," Joe Rogan said.
He was right.
Comments
comments