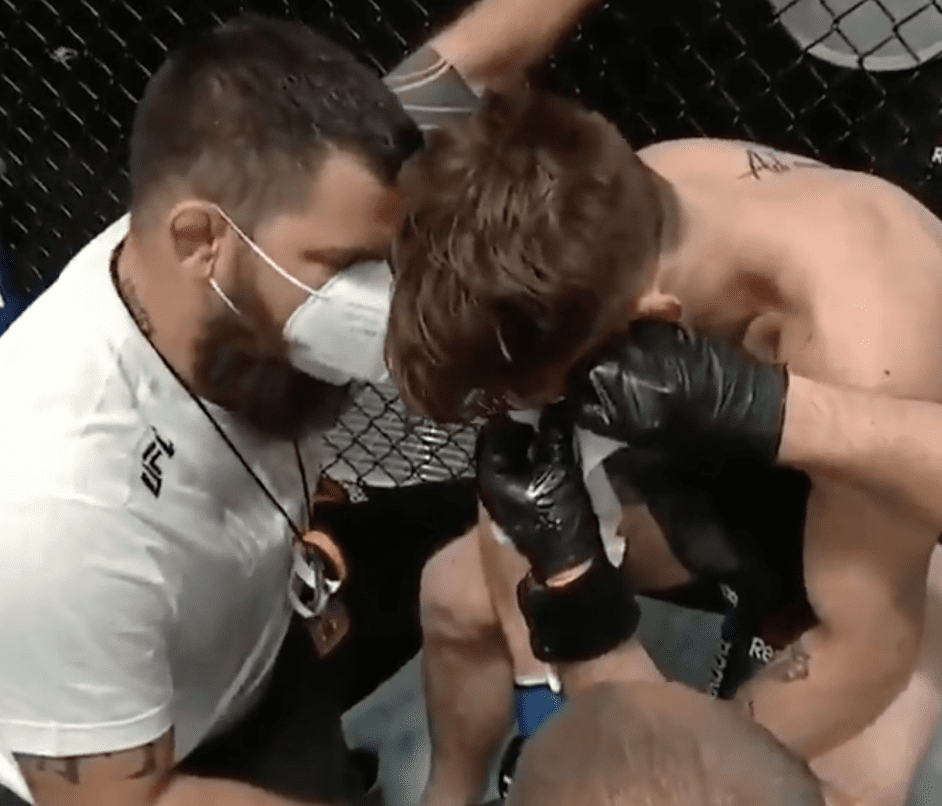 Max Rohskopf has sprung to the defence of Robert Drysdale after the controversial incident as last weekend's UFC event in Las Vegas, where Rohskopf asked his corner to call the fight on nine occasions in between rounds two and three.
His coach, Drysdale, refused to acquiesce to the fighter's wishes before the the referee overheard and opted to call the fight. The incident sparked a flurry of criticism online, but Rohskopf says that Drysdale had his best interests at heart.
"I think what my manager did was 100 percent spot on," Rohskopf said to MMA Fighting. "He's been in the sport long enough to know when someone has the ability and the talent to do it. I've been around guys who have won world titles in multiple sports—kickboxing, boxing, jiu-jitsu, wrestling, MMA—and everyone around me that's watched me train knows that I have the skills and the ability to do it. I just didn't show it on Saturday. It's no one's fault that I was in that situation except for mine.
"I've done this my whole life. I've self-boycotted myself," Rohskopf continued. "Even when I was wrestling in high school, I was the best in the state and ended up getting third because I self-boycotted myself. I was one of the best guys in the country in college, was never an All-American when it counted, because I was telling myself that, for whatever reason, I don't deserve it.
View this post on Instagram
"That's exactly what I did in my fight with Austin. Sh-t got hard, and I looked at my coach and said, 'I don't want to be here anymore.' Not because I didn't want to be there, but because I didn't think I deserved to be there."
Rohskopf continued, saying that if the commission didn't intervene he probably would have answered the call of the third round and says that Drysdale's impact on his life and career has been immense.
"The man f*ckin gave me a place to live when I needed somewhere to live, so I didn't have to live in my f**kin' car.
"I actually didn't want anything to do with MMA until I knocked on his door and was like, 'Hey, man. I need help and I want you to coach me.' He's done nothing but be there for me and do everything he can for me. So for people to come out and say that he was wrong in that situation, there's literally no debate or discussion about it."
Comments
comments