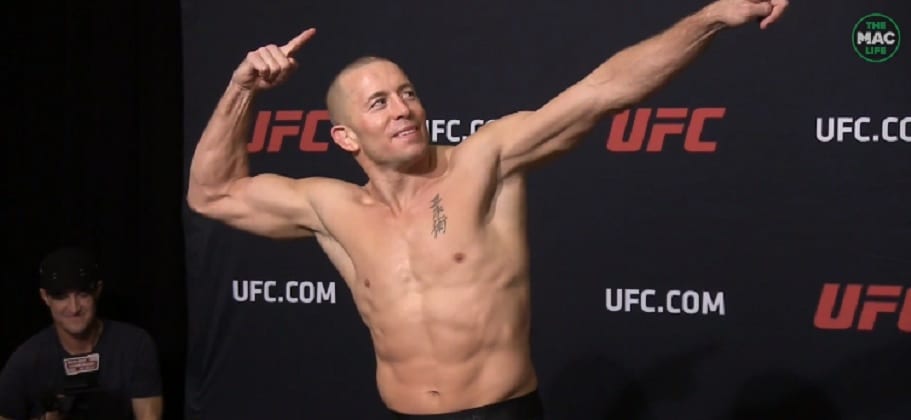 Despite being linked with fights with the likes of Kamaru Usman, Khabib Nurmagomedov and even Conor McGregor, UFC legend Georges St-Pierre has reaffirmed that he has no plans to return to the cage.
St-Pierre, the most successful welterweight champion in UFC history, has long been considered something of a standard-bearer in the weight class he dominated since making his UFC debut in January of 2004. So much so, that a victory against him comes with its own merits regardless of championship belts being on the line — which is perhaps why the likes of Usman have recently reiterated callouts of the Canadian fighter with the potential goal of adding one of the sport's most famous names to their list of wins.
However, St-Pierre himself isn't on board regardless of how he thinks he would fare in any potential fights.
"Sometimes I'm watching the fights and I'm like, 'Man I think I can beat these guys' or after when I'm done training I feel like I'm very confident," he told TMZ Sports.
View this post on Instagram
"But, after I go home at night and I'm thinking about all that crazy thoughts and I'm like 'I'm gonna be 40 years old soon, do I really wanna go back and do a hardcore training camp of 2 months? Put myself in jail so to speak and get ready for hell? I'm like, no I don't."
"I've done it for a very long time and unfortunately there's too many guys that retire too late and I do not want to be one of these guys."
"I'm very fortunate, I'm healthy most importantly and I'm also wealthy. I came out at the right time, I made a lot of money and I think the problems are when I matured and calculated the pros and cons, it's better that i stay retired."
Comments
comments