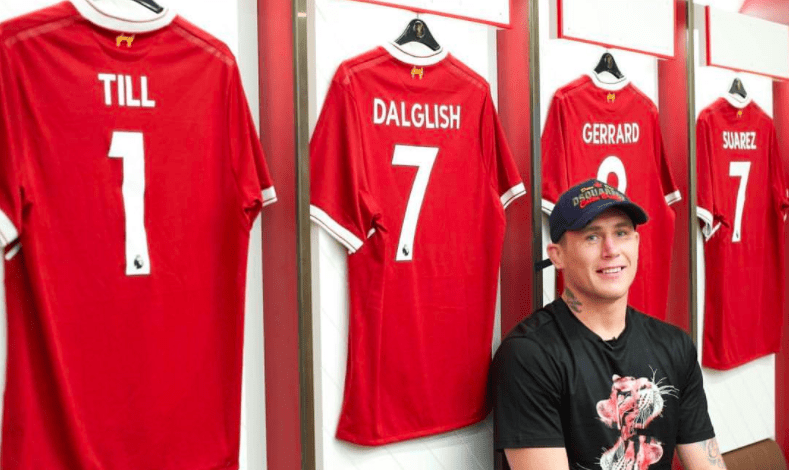 He may have been in Abu Dhabi for the moment that Liverpool lifted the Premier League trophy on Wednesday night but lifelong Reds fan Darren Till did manage to squeeze in some celebrations in his city prior to leaving for Fight Island.
Liverpool held aloft the English top division crown for the first time in 30 years last night, ending a drought which would have seemed near-impossible following their dominance in the 1970s and 1980s. It is a moment that fans of the club have been craving, and that moment was finally realised inside the empty Anfield stadium.
And while Till wasn't on hand for the celebrations, he says that he did manage to note the achievement with some of his fellow fans before hopping on his plane to 'Fight Island'.
View this post on Instagram
"Oh it was good! I went down to the ground [when the title was confirmed], but I couldn't stay long because I had training the next day!" Till told TalkSport.
"So I only stayed until about 1 in the morning and celebrated with all the fans.
"And there was a few of the players there as well so it was good. And then the next day we all went down to the Albert Dock, which is like our sort of pier head, and it was good."
Darren Till has previously fought on another momentous week for Liverpool, with his hometown win against Stephen Thompson two years ago coming on the same weekend as Liverpool's Champions League Final loss to Real Madrid. Till, and all Liverpool fans, will no doubt be hoping that the city will have an extra reason to celebrate when he takes on Robert Whittaker in the final Fight Island main event on Saturday night.
Comments
comments