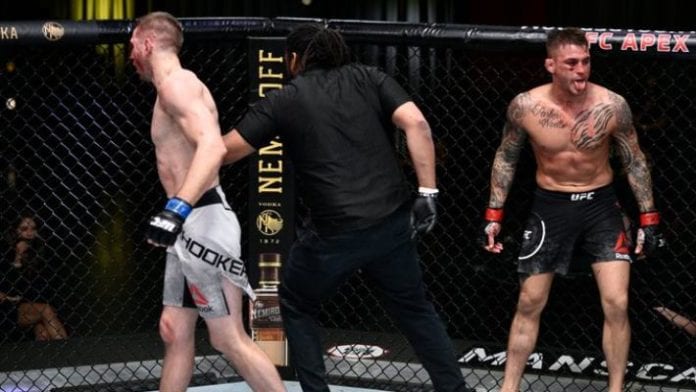 Much like most fighters who have amassed well over thirty professional bouts, Dustin Poirier's motivations have changed over time.
To many, fighting is a singular pursuit and your success or failure depends squarely upon the sacrifices that you make. If you plant good seeds, you can only collect good seeds. As time goes on, though, this point of view can change. Fighters have children, they get married and, almost overnight, the idea that no one depends on them but themselves can evaporate.
This is how it has gone for Dustin Poirier. In his early career, he chased little more than betterment and self-improvement in the cage, with the associated pay checks almost being secondary to that. But as time went on and he got married and had a daughter, it prompted him to reevaluate his motivations.
"I've been fighting for a while, I have 40 fights, and I want these last four or five years to really mean something every time I get into the octagon," Poirier said to Jim Rome as noted by MMA Fighting. "Not only for me and my family, but for the goals that I'm trying to bring awareness to and raise money for and for my career. I really want to leave a legacy."
The latter part of Poirier's career has signposted the Louisiana man as a world class fighter at 155-pounds, with wins against the likes of Justin Gaethje, Eddie Alvarez, Max Holloway and, most recently, Dan Hooker on his record. Each of these bouts was a high profile one, and Poirier says that he has little interest in taking on challenges that aren't similarly exciting to him.
"I'm not sure what the options will be when the UFC comes back and starts sitting at the table to make these matches," Poirier said. "It needs to be a really big name or a title fight. I've been doing this for 10 years in the UFC, and I still love fighting, but I want these fights to mean more than just a fight. I don't want it to just be about a show and win purse. I want it to really mean something, and I know I'm in the back nine of my career."
Poirier was recently honoured by the UFC for his charity work related to his project, The Good Fight Foundation, and he says that taking on this particular project has added another layer of motivation for his career.
"It puts fighting into perspective," Poirier said. "It's just something I do, something I do very well, but it's just part of my life. Whenever fighting stops, I'm still going to be a father and I'm still gonna be the president of The Good Fight Foundation and I'm still going to be a husband.
"Realising that and growing up in the sport and being more mature now lets me put it that way and lets me think of it that way. I enjoy it. I love fighting. But it's gonna stop one day and these other things will not. So I'm just enjoying the ride of everything."
Comments
comments