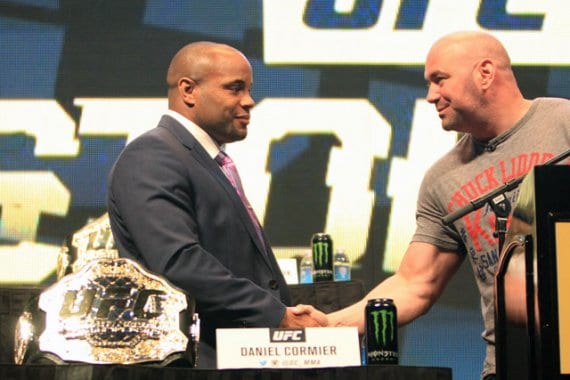 Dana White's tenure as UFC president is showing no sign of coming to an end but when that day finally arrives, former UFC double champion Daniel Cormier says he'd like to be the next man up.
White's status as UFC president came under scrutiny a few summers ago when Endeavor purchased the company from its prior owners, Lorenzo and Frank Fertitta, in a multi-billion dollar deal but he re-upped with the new management soon afterwards and has since outlined on numerous occasions how ideal he sees the new working relationship being with the UFC.
White will celebrate 20 years as UFC president in October of next year and has been instrumental in developing the sport of mixed martial arts during that time but now in his 51st year, there have been some questions as to how long White will remain in the gig.
It won't be this year, or even next year, but when that day comes Daniel Cormier may well be hoping that he receives a phone call.
"I think anybody in the world in their right might would [take the job]," Cormier said of the topic to MMA Fighting. "To be at the head of an organisation that does so many great things in terms of entertainment, and not only that, but community help. I think what people don't see is the type of influence that the UFC has in the community. The work that they do with youth programs and programs around the world.
"I think if you ever have an opportunity or anyone has an opportunity to do a job like that, they would be insane not to hope to have that opportunity. But Dana's going to be here for a long time. Dana's the man."
In an alternate timeline, Daniel Cormier is already retired. The former Olympian had outlined his desire to retire by the date of his 4oth birthday in March of last year but with that date come and gone, 'DC' is hoping for what seems like one final bout — a rubber match with current heavyweight kingpin Stipe Miocic.
A win there, one imagines, will lead to retirement and Cormier says that he would like to continue his career as a UFC employee.
"Absolutely, I would love any job with the UFC," Cormier said. "I love this organisation. I think since I came over from Strikeforce, I've made some good relationships with the people in the company. I've started to learn. I've just really learned about this company and the one thing that really stands out the most for me is how much time, energy and effort the UFC puts into helping the youths.
"That stands out to me because that's something I do. I know how important it is for Dana and the UFC to support local programs and support athletic clubs, support academic clubs. There's just so many things that they do to try and help people around the world, it really makes me appreciate who I work for."
Comments
comments