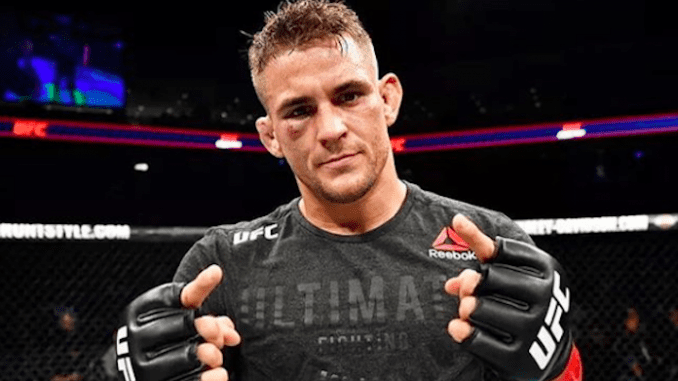 A fighter with something to prove is a dangerous fighter.
Next Saturday in the UFC 236, Dustin Poirier will attempt to get his hands on UFC gold for the first time when he faces current featherweight king Max Holloway for the organisation's interim 155-pound title. It is the culmination, so far at least, of a career-long journey for the Louisiana native whose recent form at lightweight since moving up from 145-pounds after a 2014 defeat to Conor McGregor has been nothing short of spectacular.
A trio of recent wins against Eddie Alvarez, Justin Gaethje and Anthony Pettiss — all three of whom are former world champions — clearly signify that Poirier has entered the rarified air of legitimate world class talent, something he aims to prove on Saturday against the equally in-form Holloway.
But, as Poirier said to FanSided, it is hard to escape the idea that some fight fans still overlook him.
"They've been doing that over and over again. I guess that's part of the way the sport is," he said. "People look at your last performance. There are so many shows going on that after you get your big win, there have been two or three other main events and people are talking about those guys now."
Poirier, of course, already holds a win over Holloway but both fighters are a different breed to how they were in their first meeting seven years ago. While Poirier dominated that fight and won by first round mounted armbar/triangle, he accepts it won't be so easy this time around.
"Nothing at all" will be similar, he says. "It's cool to say I have a win over that guy, but nothing is even close to the same."
Meanwhile, Poirier will auction some of his fight gear afterward to help raise money to build a playground in memory of a young fan, Aaron Hill, who unfortunately passed away recently before realising his own dream of building a play area for his peers.
"When I heard this little guy's story, it just really hit me in the heart," Poirier explained. "We owe it to this kid to make his wish come true. He passed away and never got to see it happen.
"The thought of a young kid, six-years-old, wanting to have that done so other kids can benefit from it. He could have wished for a trip to Disneyland, he could have wished for a lot of things. He wanted a playground where all the disabled kids could get together because he enjoyed playing so much. That made me feel a special way about this. I knew this was the cause we were going to get done."
You can donate to the cause via Poirier's non-profit organisation The Good Fight Foundation.
Comments
comments