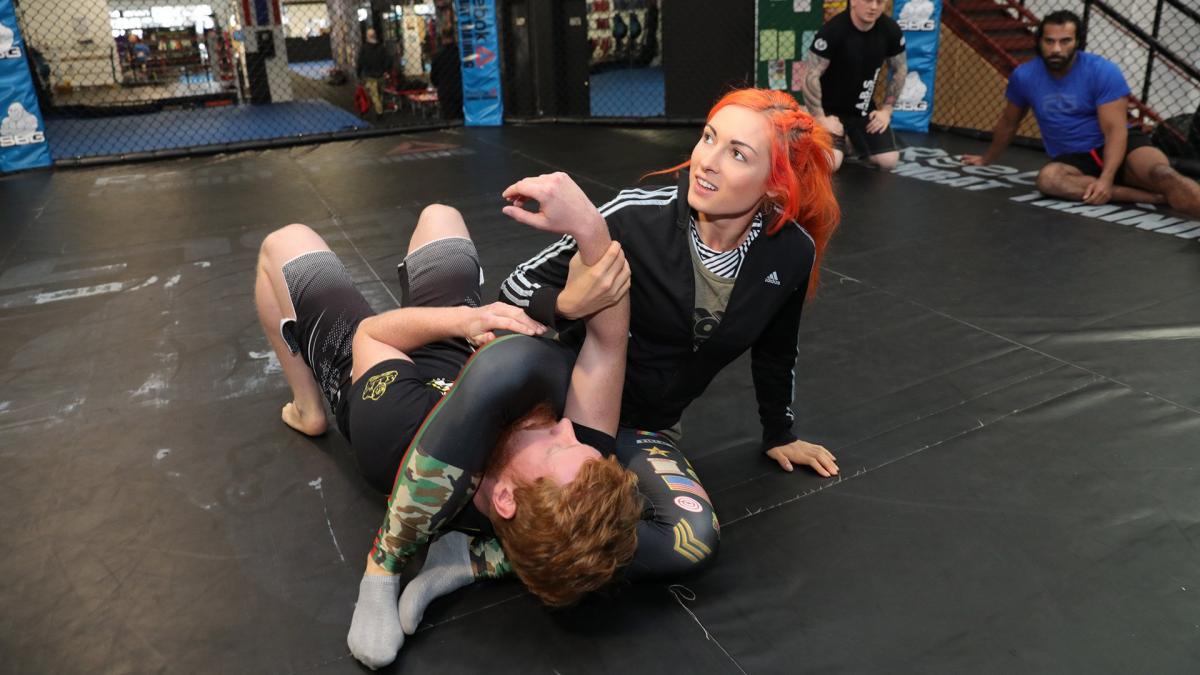 Chalk up another one to Becky Lynch.
'The Man' has become one of the biggest stars in recent WWE history in the last 18 months, electrifying fans across the globe with her unique personality and exceptional in-ring skills — all of which was recognised on Sunday night when Lynch, who originally hails from Limerick, became the first Irish person to headline the WWE's annual showcase event WrestleMania. Not only that, Lynch became the first woman in the history of professional wrestling to have her hand raised in the headline bout of the biggest pro wrestling event in existence.
Lynch (pictured above training at SBG Ireland) won both the Raw and SmackDown women's championships in front of more than 80,000 fans in the MetLife Stadium in New Jersey, defeating former UFC champ Ronda Rousey and one of the most successful wrestlers of her generation, Charlotte Flair, in the main event — and noting this achievement, Conor McGregor was quick to post his thoughts on Twitter… and even leave the door slightly ajar for one day making his own leap to the world of professional wrestling.
Congrats to Irelands Becky Lynch, the WWE's first Champ Champ.
Wow!
What a match these ladies put on! Ronda Rousey is something special in that ring, as is Charlotte Flair of the Flair dynasty!
Stephanie McMahon you are right, I could not do what these athletes do.
Or could I…

— Conor McGregor (@TheNotoriousMMA) April 8, 2019
One of these is a WCW belt.
Both belts must be won under the same organization and both titles must be fully unified also.
Interim titles do not make the cut.
The belts must also be held consecutively.
This is for true "Champ Champ" status.
Yours sincerely,
The Champ Champ™️ https://t.co/b7dW8T1Gty

— Conor McGregor (@TheNotoriousMMA) April 8, 2019
Lynch's rise to the top of the sports entertainment world mirrors that of so many athletes who have dedicated their lives to succeeding in mixed martial arts. There's an old adage which states, 'it takes a long time to become an overnight success' an it certainly applied to Lynch and many of those who have spilled blood, sweat and tears on the mats at SBG and elsewhere.
She began training in 2002 and soon found herself learning under the stewardship of Bray man Fergal Devitt (better known now as Finn Balor), but a head injury she suffered kept her away from the sport for years. She was signed to the main WWE roster in 2015 after working her way up from the developmental 'NXT' roster and, after her dramatic win on Sunday night where she pinned Ronda Rousey to claim two championship titles, Lynch has risen to become perhaps the biggest star in the sport right now.
And who can say that it isn't well deserved?
Image credit: wwe.com
Comments
comments