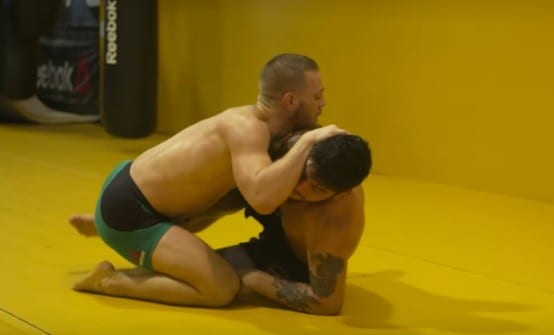 Dillon Danis is one of the more accomplished grapplers currently competing in mixed martial arts, and he says that his training partner Conor McGregor's ability on the ground is up there with anyone in the game.
Danis has a grappling pedigree too long to list here. He counts numerous IBJJF titles on his competition record and his developing mixed martial arts has seen him win both of his first fights under the Bellator banner by first round submission. Before his own MMA career began to take off, he was invited to Dublin in 2016 to train alongside Conor McGregor ahead of his UFC 202 fight with Nate Diaz.
Since then, Danis has maintained a close relationship with McGregor and SBG Ireland affording both men the opportunity to continue training alongside one another and, as they say, iron sharpens iron.
View this post on Instagram
Speaking with MMA media personality 'The Schmo', Danis said that McGregor's capacity in the submission game surprised even him.
"Conor's always been prepared, man," Danis said. "Conor's been one of the best jiu-jitsu guys that I've ever rolled with, like MMA-wise since I started training with him. His jiu-jitsu is on another level, and it always has been.
"I think people just underestimate him for some reason, but if it does go to the ground, they'll see," Danis explained. "They'll see how good he is."
McGregor is, of course, known for the piston-like left hand in his arsenal which has played a part in 18 of his 21 wins to date. He owns just one submission on his record thus far, a rear naked choke of BJJ black belt Dave Hill in June 2012 which brought him his first ever world title, but judging by Danis' words it doesn't seem like we'll be waiting eight years for his next one.
Danis, meanwhile, will look for a third successive win on his MMA ledger when he takes on Kegan Gennrich on the Bellator 238 main card from The Forum in Inglewood, California on January 25.

Comments
comments