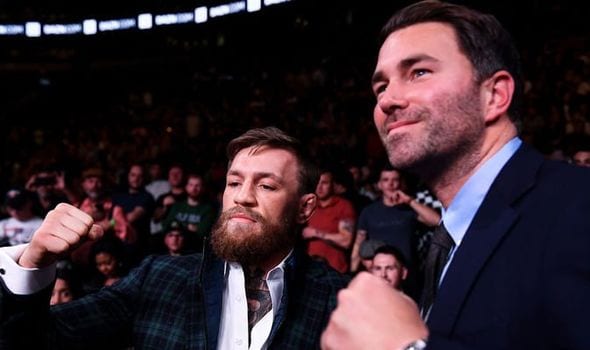 Despite having just one professional boxing match to his name, Conor McGregor's name remains inextricably linked to the sport. 
It is easy to understand why: McGregor has succeeded the man he faced in the boxing ring in Las Vegas three years ago, Floyd Mayweather, as the top commodity in combat sports which leaves the sport in the unusual position of having a bona fide, bankable pay-per-view commodity completely outside of its reach — so long as McGregor remains tied to the UFC.
Matchroom Boxing's Eddie Hearn, a noted fan of the Irishman, obviously sees the potential for future fights involving McGregor and should he decide to don the 10oz gloves once again Hearn says he would like to be the man to help arrange it.
"I think Mr Dana White has Conor McGregor nicely locked up for the next few years," Hearn told talkSPORT. "I think Conor is great; he is such a character, such a personality, such a great fighter.
"So much character, so much personality – he is just a great performer. He is a great self-promoter and I am a big Conor McGregor fan. He's never going to be a world champion boxer – he can look after himself – but taking all the octagon stuff away, there's a guy that's really revolutionised UFC and MMA."
View this post on Instagram
While McGregor would likely dispute Hearn's assertion that he would never win a world title in boxing (this was a stated aim of McGregor's) his immediate future remains unclear after he announced his retirement from mixed martial arts earlier this year but Hearn notes that combat sports has been known to produce some unlikely scenarios.
"So who knows what the future holds? But I don't think you're going to see too much more of him now. Will he go back in the octagon or will he go back in the ring?
Comments
comments