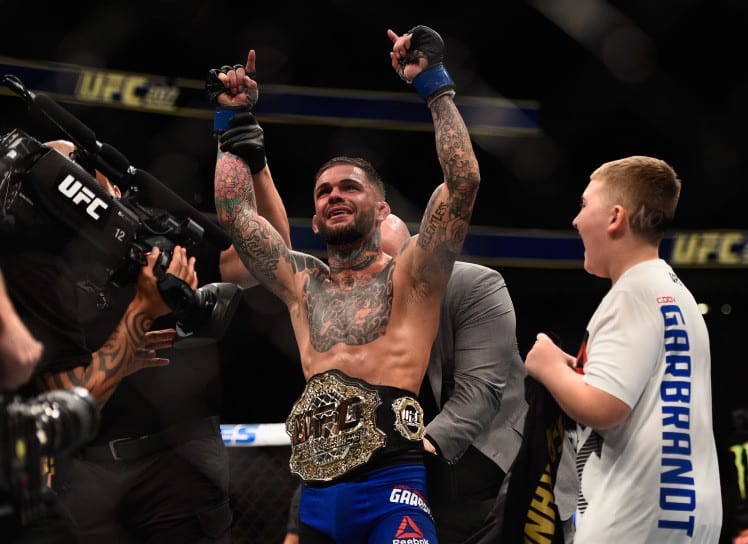 Cody Garbrandt says that he can go one better than his former heated rival T.J. Dillashaw by dropping down to the 125-pound division to claim gold — as well as regaining the championship he formerly held at 135-pounds.
Both the flyweight and bantamweight divisions crowned new champions through the UFC's sequence of four events on 'Fight Island', with both Deiveson Figueiredo and Petr Yan claiming title recently held by the now-retired Henry Cejudo. Garbrandt, meanwhile, has suggested himself as a potential opponent for both but appears to have focused his gaze on dropping to 125-pounds for a title bout with the Brazilian champion.
"I've actually been vocal about going to 125 for quite some time now. We spoke about it in the past before the Assuncao fight and I feel like it's great. I'm able to do it now, early still in my career. I just turned 29. I'm able to go to 125, challenge and win that title there, and then go back up to 135 pounds and compete with the best of them there," Garbrandt said via MMA Fighting.
"I feel like it's a time in my life and my career where it's very pivotal for me to make this transition into flyweight and bantamweight. I don't think a lot of the flyweight guys could come up to bantamweight and compete at the elite level that I am, so I'm very blessed I'm able to do that. So yeah, hopefully I get this shot against Figueroa, Figueiredo – whatever his name is.
"Great guy. I think that he's a tough, tough competitor, I just think that I'm way more skilful than him and excited for the challenge at task. Hopefully we'll get it done and I can get in the octagon before this year's up again."
View this post on Instagram
Despite having competed at bantamweight for the majority of his career, Garbrandt says that he actually doesn't cut a tremendous amount of weight and that a further ten pounds wouldn't represent the type of challenge that it might for some of his bantamweight peers.
"I talked to Dana when he was on 'Fight Island,'" Gabrandt said. "He said he'll work on it and he was speaking with Ali and my coach Mark Henry, my coaches out here in Sacramento, so that's kind of the plan. Right now, I just got done working out and I'm 145 pounds. Twenty pounds over – that's very doable. I don't cut weight until 135 pounds. I watch my weight the week of the fight and a lot of these guys are cutting to flyweight walking around this weight. So I can be very dangerous there and at 135 pounds."
Furthermore, Garbrandt says that his future holds fights in both divisions — and hopefully more than a few title bouts along the way.
"Like I said, I'd love to be able go snatch the 125 pound belt and then go and fight Petr Yan if he's the champion after I grab this belt in November.," Garbrandt said.  "Obviously, if you're able to become a two division world champion – not many are world champions in their life or their career.
"I have the opportunity to do this. I'm chasing greatness. I'm on a mission. I've had the world championship tied around my waist before, I know what that feeling is, and I know I'm capable of doing it again at both weight classes."
Comments
comments