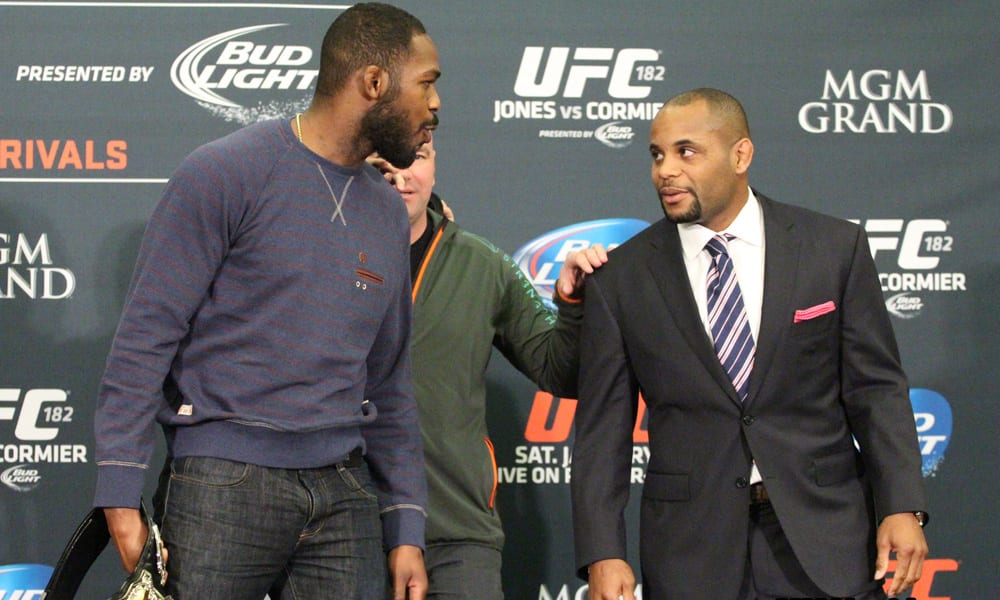 Time, they say, heals all wounds and it appears this is the case when it comes to one of mixed martial arts' deepest rivalries. 
For several years, and throughout two fights (and the buildup to another at UFC 200 which was eventually cancelled), Daniel Cormier and Jon Jones were at each other's throats, both in the cage and outside of it. But over time, their paths have diverged from that of rivals to peers following Cormier's retirement in 2020. Since then, the former US Olympian has segued his career into commentary and analysis, and was cageside for Jones' recent victory to claim the then-vacant UFC heavyweight title against Ciyrl Gane.
In the aftermath, Jones said that he Cormier couldn't even "smile" for him — but elaborating on this to fellow Olympic wrestler Henry Cejudo, Cormier said that the majority of the bad blood between the two has receded.
"Did you see what happened after the fight? I wasn't mad though," Cormier said, as noted by MMA Fighting. "When he was finishing Ciryl, his back was to me and my reaction was the same reaction as Rogan, but because of our history it's like, 'Oh, DC is mad.' Then he says, 'Dude couldn't even force a smile.' That tells you he's not quite ready [to leave it behind]. So, we don't need to force him. He's ready, but he's not quite ready yet.
"We talked about each other's families [when they competed against each other]. But in the darkest moments, when his mother passed, when my father passed, he sent me a message. He really did. And even in that moment, I appreciated that. For all that we've been through, I appreciated him sending me that message as I sent a message for his mother because we understand what family is.
"He did send me a message when my father passed and when my mother passed. He did," Cormier added. "There's good in that dude. There really is. I just ain't really had the opportunity to see it. But we'll see what time brings, and if the time brings it then yeah, we'll make sure you're around. But hell, if we start fighting with each other you better be okay to f*cking stop it. I don't think you can stop it.
"There is good in that dude. You just gotta be able to get to it. Nobody is without fault. Everybody has messed up. I have. So, for us to cast stones at him — that's why in those dark moments I was never trying to pile onto him. I hope he gets better, I hope this works out for him. I never tried to kick him while he was down. Now, in fight promotion, what you say is what you say. Especially when you have a history like him and I had."
But per Cormier, relationships change — and particularly when you remove them from a competitive atmosphere.
"We had a great rivalry," Cormier said. "But that's to bed now. I'm not a fighter, right? I don't really hold ill will towards him right now. I just don't feel the need because what's the point in it? That's the only thing.
"I would not have much of what I have without him. He elevated my star to levels because our rivalry was so bad. It was so intense and it was so desired by people. People were rabid for me and Jones. To the point that now at 44 years old people go, 'DC, one more.' I'm like, 'No, I'm 44 years old.' But that is what happens when something that matters lasts."
Comments
comments