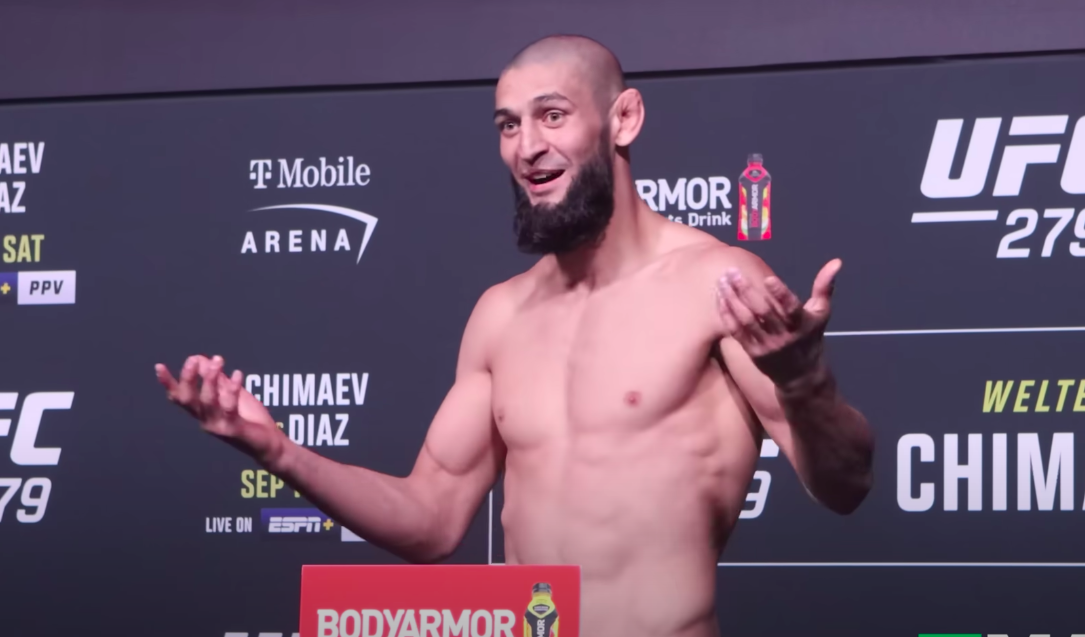 Andreas Michael, the coach of surging welterweight contender Khamzat Chimaev, says that there are no excuses for his fighter missing weight by 7.5-pounds ahead of his scheduled UFC 279 main event fight against Nate Diaz.
Chimaev's weight issues forced an eleventh hour change to the fight card, prompting Chimaev and five other fighters to take on new opponents as the UFC scrambled to save the pay-per-view card after it became apparent that Diaz (quite rightly) wouldn't take on Chimaev with such a weight disparity.
And speaking with Ariel Helwani on The MMA Hour via MMA Fighting on Monday, Michael pulled no punches as to who was responsible for the mishap.
"His whole career he's been fighting at welterweight," Michael stated. "He's missed weight this time, but it's not as if he's been missing weight all the time. Of course, he's been having a hard time making weight, but he's always made weight. The point of the thing is that we're going to make it easier and fight at middleweight some of the fights, but we're game for welterweight as well.
"We started this camp heavy," he added. "That's what the problem was as well. We got an offer to fight Nate Diaz, and it was earlier than this in August. It was too soon because he was heavy. Then they moved it 10 days up, and I believe we just started too heavy this camp. We should have had a little more discipline and held our weight to a reasonable level, to a reasonable weight close to the one that he's training at and going into camp. That's basically about it.
"We can find a lot of reasons and excuses and all this. At the end of the day — I'm not slagging off Khamzat, he's a magnificent fighter and I love him to death — but what I'm saying is that it was absolutely unprofessional from our side not to make weight. Anyone who doesn't make weight is unprofessional, absolutely. I want to [apologise] to Nate's camp for that. We should have both made weight, and there are no excuses."
Michael also explained the medical issues Chimaev was experiencing which prompted medics to tell him to halt his weight cut.
"He was getting muscle spasms, shaking," Michael said. "Vomiting. When he stood up he was passing out. I was worried about him."
"Ever since he got coronavirus and all these health issues, he's had a little bit of a hard time making the weight," Michael later added. "Ever since that issue, his body has been a little bit off when it comes down to pushing it to the last drop. But I'm just speculating. Like I said, I'm not a physician, I'm not a doctor or anything like that, and I don't claim to be one."
Comments
comments