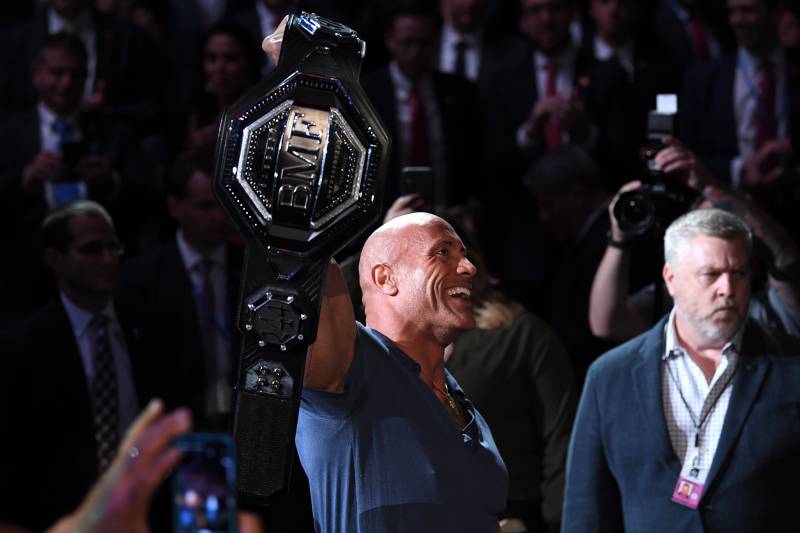 Dwayne 'The Rock' Johnson says the main reason he got involved in the Jorge Masvidal vs. Nate Diaz fight was because he saw an opportunity to help get the two men paid as much as possible.
Johnson was brought into the Octagon to present the newly created 'BMF' belt to the winner, and went out of his way to promote the event UFC 244 repeatedly in the days leading up to the night.
According to him, he says, he just wanted to help Masvidal and Diaz leave Madison Square Garden with as much cash as they could possibly make.
"That was a very special night," Johnson said, speaking on the Ariel Helwani MMA Show. "To be able to present that title to whoever the winner was, and to be part of promoting the fight — because I did go into that fight, the BMF fight, to me my number one job was to promote the fight and get as many eyes as possible on this fight. I think because fighters have a finite window of time, and the same thing as pro-wrestling, I always want to make sure the fighters and the wrestlers are getting as much money as they possibly can, because that's the bottom line.
"Of course, there's passion, there's drive, there's disciplines, but at the end of the day I want them to secure the bag. The promotion I was doing leading up to the fight, I wanted to make sure that Jorge and Nate Diaz and all the fighters were making as much money as they possibly could on that night, and if I can help raise the bottom line and impact the bottom line in a little way, then I've done my job."
Despite the good intentions, however, Diaz actually found issue with The Rock's presence (albeit somewhat tongue in cheek), and told reporters in his post fight press conference that The Rock could "get it too" after Diaz believed he was too close to Masvidal.
As a fan of the sport, Johnson didn't mind.
"I wasn't surprised at Nate's comments, because that's the Nate we all know and love," Johnson said. "He is as advertised. He gets it. He knows that me and Jorge were boys, we're from Miami, we have a lot of deep connections … I was totally fine with it. He gets it."
–
Comments
comments