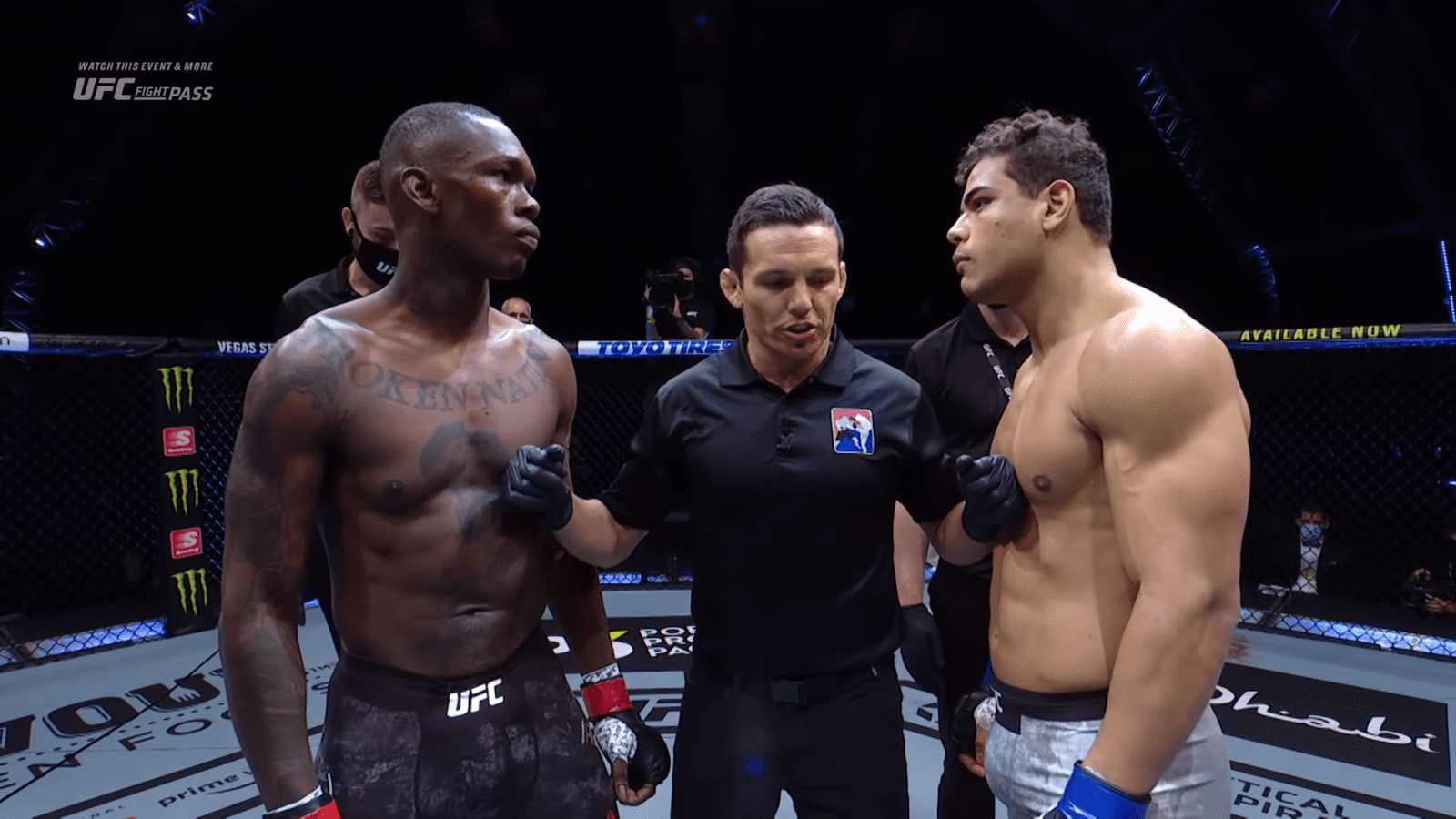 UFC middleweight champion Israel Adesanya doesn't have a whole lot of time for Paulo Costa's explanation for his underwhelming performance in their middleweight world title fight last September. 
Costa explained recently that he drank a bottle of wine in the hours before the fight because he was having difficulty sleeping which, he says, severely impacted the type of performance he displayed in the cage in Abu Dhabi at UFC 254. Adesanya took until the second round to end Costa's undefeated streak, winning by TKO and further enhancing his reputation as the world's most dangerous middleweight in the process.
But as for Costa's reasoning for his unusually tepid performance, Adesanya isn't buying it.
"The only time he seemed drunk was when I cracked him and he did that wobbly walk," Adesanya said to ESPN. "He didn't seem under the influence. I should make up excuses as well. Oh yeah, there were race cars driving that whole night at The W. I couldn't sleep. So it was really hard for me to sleep that night because there were Nascars just going 'RRRR' the whole night so I couldn't sleep either. So we were on an even playing field.
View this post on Instagram
"I'll tell you one thing, an advice I'll give someone like Paulo in this situation: humble yourself," Adesanya added. "Accept the fact that the skinny clown whooped your ass. Accept that and go back to the drawing board and reassess your whole game plan. Reassess your team as well. Reassess your whole team and see if they're right for you rather than just making excuses. It's his ego. His ego won't let him accept the fact that I whooped that ass, twice. So just accept that and you'll be a lot better off. But if you keep making excuses, it will never let him get further in his career."
Costa will face former champion Robert Whittaker in his next fight in a bout which should firmly re-establish title credentials for the winner, while Adesanya busies himself in preparation for his attempt to seize the UFC's 205-pound belt from Jan Blachowicz in the UFC 259 headliner.
But if Costa is planning a quick route back to the champ, he may have to wait a while after Adesanya renewed his ambition for a crack at Jon Jones.
"Man, with this whole corona bullsh*t, and America's not really doing so well like New Zealand, so unfortunately it might not be summer or July," Adesanya said. "But it's still December. December 2021, it can happen then. All I know is this fight needs a crowd. That fight needs a crowd. I can't do it in an empty arena. That fight definitely needs a crowd."
Comments
comments