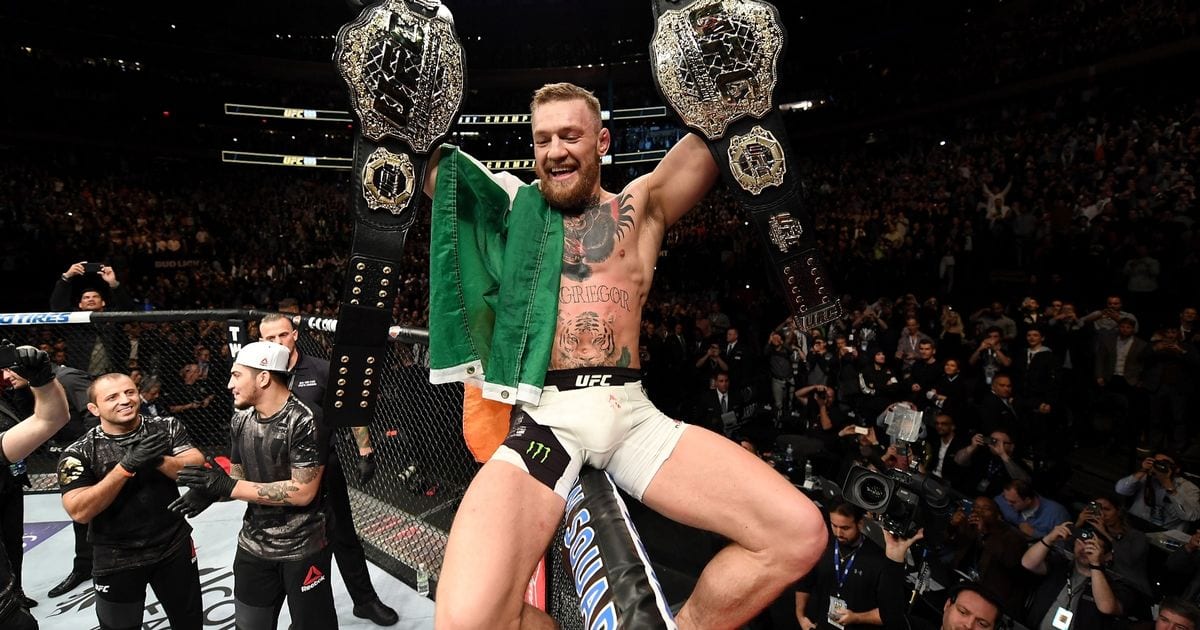 With rumours abound that Conor McGregor is set to fight Dustin Poirier for a third time in July, the Dubliner wants to ensure there is more on the line than just bragging rights.
In a tweet posted Wednesday afternoon, McGregor called for the UFC to issue a new world title called 'The McGregor Belt' — something that he first suggested during the press conference ahead of his first bout against Nate Diaz at UFC 196.
I I feel it's time to break out this baby for the next fight. I ask the UFC to please create The McGregor belt. I suggest rose gold and rubies. Think patek rare. pic.twitter.com/bGSRBhRwAa

— Conor McGregor (@TheNotoriousMMA) March 31, 2021
Or yellow gold and emeralds possibly. Might be nice also.
I'm open to design suggestions.
Let's link up @ufc #TheMcGregorBelt

— Conor McGregor (@TheNotoriousMMA) March 31, 2021
Isn't that crazy! Who's the real bad motherfucker anyway ? Went up two weight divisions on a weeks notice to fight him for that fight. No hesitation. Straight onto my jet. In thru the side door. Surprise, surprise https://t.co/ku9NtjAsBT

— Conor McGregor (@TheNotoriousMMA) March 31, 2021
"It doesn't matter what weight division or what belt is on the line because really I should create my own belt," said McGregor during the press conference several years back. "Because I am myself my own belt. It doesn't matter if it's the featherweight, the lightweight, the welterweight, it's the McGregor belt. That's it, I'm fighting for my own belt."
Of course, the UFC have magicked a new championship belt out of thin air in the past when they instituted the 'Bad Motherf*cker' title ahead of a fight between Nate Diaz and Jorge Masvidal in November 2019.
McGregor is widely expected to face Poirier in a rubber match this coming summer in a fight which Poirier reportedly accepted in place of a shot at the vacant world title, lending further weight to the idea that the sport's most lucrative-ever attraction is indeed more attractive an opponent than any world title fight.
Comments
comments