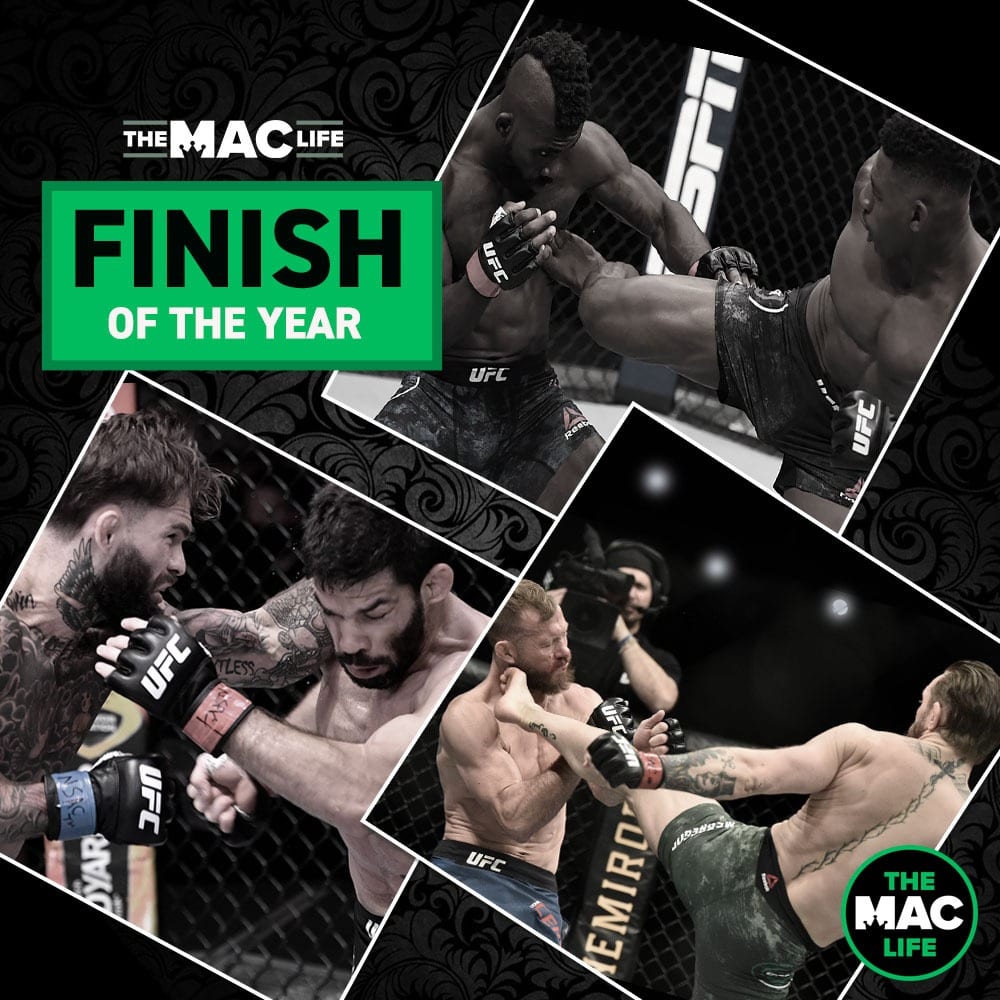 Even in the most unusual of years, there was still a feast of action in the Octagon and 2020 certainly delivered its fair share of impressive finishes.
More than a few fighters added some tape to their highlight reels this year and while it was hard to narrow the list down, TheMacLife has selected the three fight finishes from this year which will live long in the memory.
View this post on Instagram
Joaquin Buckley def. Impa Kasanganay — KO (Spinning heel kick), October 11 2020
Joaquin Buckley isn't exactly a name which rolls of the tongues of fight fans across the globe but he went some way to correcting that with his sensation knockout of Kasanganay in Abu Dhabi a couple of months back — and this one might just go down as one of the most sensational knockouts in all of MMA history.
In a battle of two dangerous strikers Buckley landed the telling blow on the aggressive Buckley, spinning his body to land a stunning spinning heel kick directly to Kasanganay's chin in the second round after he saw a prodding initial kick caught by his opponent. Kasanganay was out instantly, his eyes visibly rolling back as he tumbled to the canvas.
Buckley was handed his performance bonus and will chart highly on practically any end of year lists for the sport that you might imagine — and it's hard to say that he doesn't deserve it.
View this post on Instagram
Conor McGregor def. Donald Cerrone — TKO (High kick and punches), January 18 2020
There's an old cliche in the fight game which states that top level athletes certainly don't get paid by the hour, and that certainly applies to Conor McGregor in his one-sided shellacking of Donald Cerrone at the start of the year.
In what was his return to the cage after a prolonged absence, McGregor wasted little time in getting going. He launched forward with a straight left in the opening seconds but soon found himself in a clinch with the taller Cerrone. Then they came: a jumping shoulder strike. And another. And another.
By the time Cerrone reeled back, his nose was visibly damaged and his left eye swollen. Smelling blood, McGregor landed a left high kick flush to Cerrone's chin who staggered against the cage. A few short shots on the ground later, it was all over and McGregor had landed the 19th knockout win of his career.
View this post on Instagram
Cody Garbrandt def. Raphael Assuncao — KO (Punch), June 6 2020
Coming into a fight with the dangerous Raphael Assuncao, former bantamweight champion Cody Garbrandt had a lot to prove. He had lost three straight fights (Dillashaw x2, Munhoz) and a fourth would have been an almost fatal blow to his chances of competing for a world title any time soon.
Luckily for him, none of that mattered. Garbrandt has long been considered one of the pound-for-pound most powerful punchers in the UFC — a fact that Brazil's Assuncao became intimately acquainted with in the final seconds of the second round in their meeting this past summer.
Pushing forward against the cage, Assuncao might have thought he wasn't facing any immediate danger but 'No Love' clearly thought otherwise, as he launched a right hand from his hip which connected flush to Assuncao's chin and sent him tumbling to the canvas in as pinpoint a punch as you will have seen all year.
Comments
comments