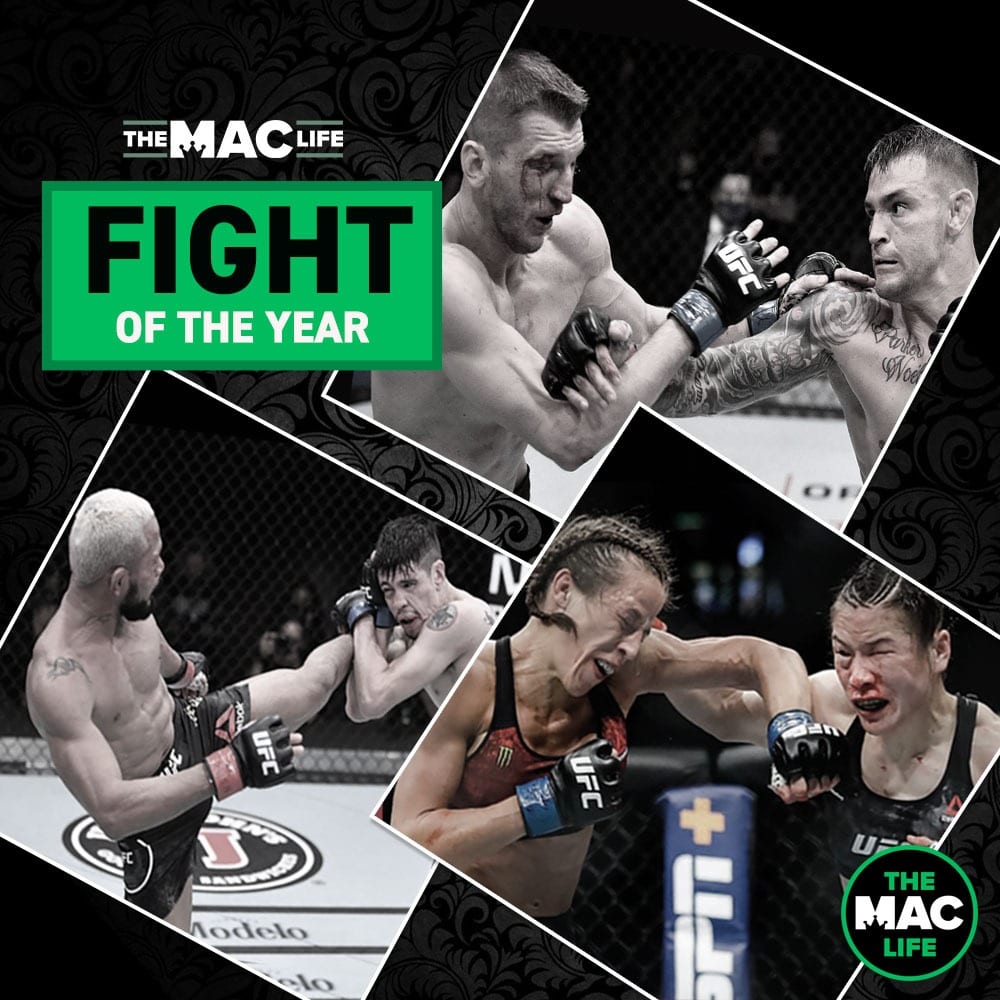 There may have been no crowds, but there were some bangers.
This year, the world of mixed martial arts — and indeed sports in general — was plunged into disarray with the rise of the coronavirus. As a way to push on, the UFC made the decision to continue with fanless shows, meaning fighters would mostly find themselves competing in the near silence of the UFC Apex.
Despite the unfamiliar settings, plenty of fighters still went to war, doing everything in their power to pull out the victory. While the environment was anything other than normal, inside the Octagon it was business as usual, with the stars of MMA going to war.
What follows? Three of 2020's best.
Dustin Poirier vs. Dan Hooker, UFC Fight Night: Poirier vs. Hooker, June 27.
Imagine if there was a crowd…
In June, Dan Hooker and Dustin Poirier went to absolute war over the course of five rounds, with Poirier apparently miffed and motivated by what he perceived as disrespect from Hooker's in the pre-fight build up. In round two, both men were rocked, and indeed Poirier was lucky to see the bell, admitting after the fight he was in a world of trouble.
In the end, however, the former interim lightweight champion persevered to see out the remainder of the fight and put Hooker on the back foot en route to pulling out the victory.
Poirier's next fight? A rematch with Conor McGregor.
View this post on Instagram
Deiveson Figueiredo vs. Brandon Moreno, UFC 256, December 13.
The most recent entry on our list, and almost certainly the end to the discussion as to whether the UFC's flyweight division should continue to exist, champion Figueiredo and contender Moreno went back and forth over and over again for 25 minutes.
Both men were seen repeatedly hurt, and could have been finished on multiple occasions. In the end, the deciding strike was a low-blow, landed by Figueiredo and was considered egregious enough to cost him a point. As such, the contest was ruled a draw, and the pair will go back at it in the near future.
Zhang Weili vs. Joanna Jedrzejczyk, UFC 248, March 7.
While it's inarguably coined the best fight in women's MMA history, Zhang Weili and Joanna Jedrzejczyk have rights to claim 'best fight' regardless of what parameters you want to put on their UFC 248 bout.
Again, a back and forth strike fest over five rounds, it was a day of silencing doubters for the duo, as new champion Weili showed she was able to compete with the best the 115-pound division had to offer, and Jedrzejczyk was able to prove she was still one of the elite, putting forth her most complete performance since her own reign as champion.
A razor-thin decision went to the champion, but as is so often the case with excellent fights, a rematch is never not mentioned when the winner's name is discussed.
Comments
comments