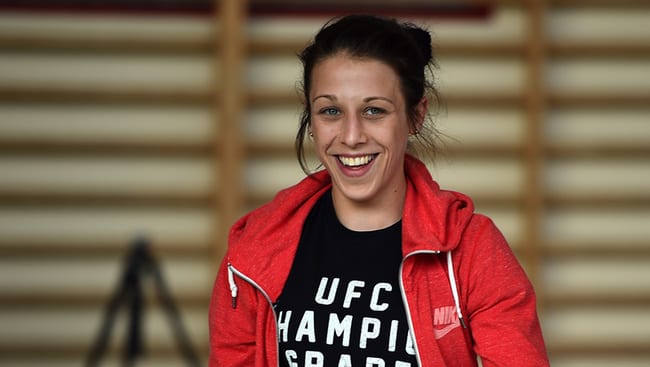 Not so long ago, Joanna Jedrzejczyk was considered to be the top female mixed martial arts fighter on the planet.
In the last few years, though, her results have suffered. Since she lost her UFC women's strawweight title to Rose Namajunas at UFC 217 more than three years ago, the Pole, 33, has won just two of her next fight contests, with wins against Michelle Waterson and Tecia Torries held against a rematch defeat against Namajunas, another to current champ Zhang Weili and to Valentina Shevchenko, the reigning flyweight champ.
Jedrzejczyk hasn't competed since last year's fight of the contender against the Chinese champion Weili but she says that she is more than ready to restart her MMA career, and wants that to come against the winner of this weekend's title fight between her and Namajunas.
"I was the champ for a long time. It's been a while," she explained to MMA Fighting. "I lost the title to Rose Namajunas but I know my value. I gave the fight of the year, the fight of the decade and I know I'm still very good. I don't waste my time. I keep on training all the time. I can't wait to get back to American Top Team. I'm doing a big TV deal in Poland but can't wait to get back to the States and start training with my team again."
View this post on Instagram
She added that she intends to return to the United States in May for a period of training which she wants to culminate in a shot at the gold.
"I called Mick [Maynard] a few days ago and I just told him 'you know what the baddest b*tch on the planet is back' so book the fight, watch this fight and tell everybody that I'm next," Jedrzejczyk continued. "I was waiting for this fight. It's Covid time, so that's the only reason why the belt was not stripped. Because once a year you have to defend the belt. But we're having Covid times but when I was the champ, I was defending this belt like crazy."
And as for who any hypothetical title bout might come against, she says that this weekend's title fight should be a competitive one.
"I really believe that Rose Namajunas can outscore Weili Zhang but she has to be careful because Weili is powerful," Jedrzejczyk explained. "But you know what, all the videos she's posting and posting before my fight, these punches aren't that hard. People will go crazy 'how is that possible, your head was so big, it was so [swollen].'
"Of course it was [swollen] but something happened in my head and the blood was coming out but inside my skin, it was a hematoma but I've fought with stronger fighters. I didn't feel that much power of the punches but I know that Rose can outscore Weili Zhang but Weili is a powerful girl. She's a very powerful girl. For me, it's 50/50."
But her motivations are clear. After more than a year out, she has begun lusting for another title belt in her possession.
"I want to get the winner of this fight," she said. "I won't stop. That's the thing if I was losing fights by knockout or if I was losing the fights on points and the difference was big but it's not. I always put on a show and the fights are very close so I want to keep on going."
Comments
comments