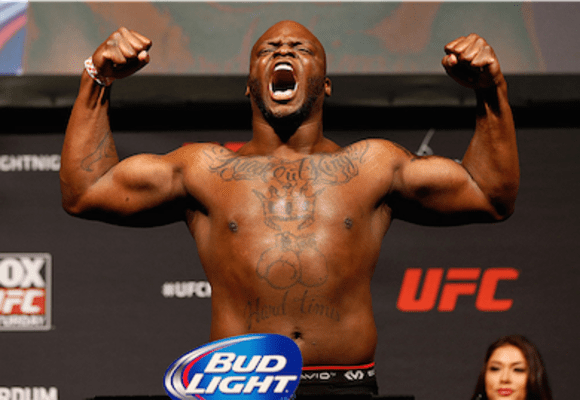 In this topsy-turvy world we live in today it is somewhat comforting to know that some things remain constant, and somewhere near that top of that list is Derrick Lewis' uncanny ability to knock people out.
Lewis earned the 21st knockout win of his 35-fight career on Saturday night when he separated upstart heavyweight Chris Daukaus from his senses in the UFC Vegas 45 headliner from, you guessed it, Las Vegas. The finish, which came with around 90 seconds remaining in the first round, was another example of Lewis' impressive power and willingness to pursue a finish when he smells blood in the water, as he unleashed a furious barrage of punches on Daukaus. It was a victory which broke the UFC record for the most knockout wins (13) but afterwards, Lewis was concentrating on another narrative: his opponent being a (former) police officer.
"It means something, I guess, because of all the greats that were here before me," Lewis said post-fight of his record-breaking performance. "But really it doesn't change anything, because there's still a lot of other guys that are active and have been doing pretty good as well.
"That was for Rodney King," Lewis elaborated. "I'm fighting a police officer, man. Come on, man. That's the only time you get a chance to punch a police officer in the mouth and get away with it, and then he gets up and shakes your hand? Sh*t, that was a great feeling, man."
The win cements Lewis' spot near the top of the division and with a next month's title fight between champion Francis Ngannou and Ciryl Gane set to plot of the division's path for 2022, Lewis says he remains interested in both men.
"Ciryl, I guess he's a good dude. He's a likeable guy," Lewis said of the title fight. "I couldn't find anything wrong with him. Personality-wise, outside of fighting, he seemed like a pretty cool dude. Ngannou, on the other hand, he can kiss my ass. He seems like a dickhead 24/7, so f*ck him."
And with Lewis holding a victory over Ngannou from their (very odd) matchup in way back in 2018, don't be surprised if their paths cross one way or another before next year is out.
Comments
comments