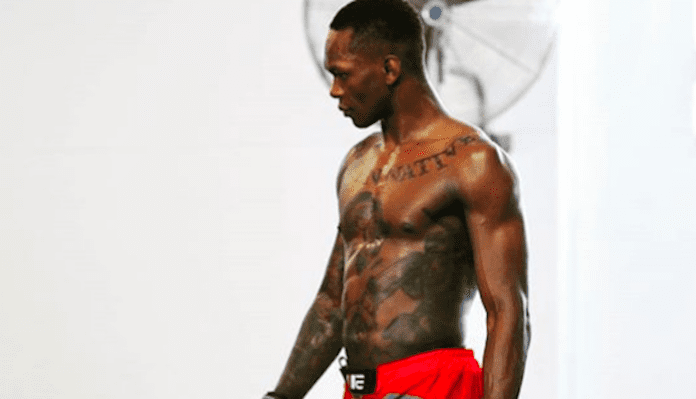 Ahead of a bid to become the UFC's latest two-division champion, middleweight champ Israel Adesanya says that he won't repeat the mistakes of some of those who came before him by attempting to add further ballast to his frame ahead of moving up a division.
It was recently announced by UFC president Dana White that Adesanya would be Jan Blachowicz's first challenger to the light heavyweight title he claimed by beating Jan Blachowicz on 'Fight Island', but 'The Last Stylebender' says that he doesn't intend to mix-up his preparations to any great degree — and he certainly won't concentrate on piling on some pounds of extra muscle.
Jon Jones, the previous champion, vacated the belt ahead of a move to heavyweight where he says he intends to bulk up. This comes after Jones had previously stated that adding muscle to his body had negatively impacted his performances in the light heavyweight frame.
View this post on Instagram

😎 In fighting at a high level It's the pretty ones you gotta watch out for. #johnnybravo 🕶
"That's Jon 'Blow' Jones downfall," Adesanya said to Submission Radio. "Like, 'I need to move up in weight, pack on the size'. Some people are just stupid, they play the game so stupid. I've done it at kickboxing, I weighed in at heavyweight with my clothes on and a tray of Dunkin Donuts in my hand, and I was like 90-something kilograms. Like, skills, bro.
"Yeah, sure, you want to put on size? Alright. Is your body used to being that heavy? Are you used to moving around that heavy with the work-rate you were doing with all your previous fights? Yeah, I just don't play the game like everyone else," Adesanya said. "I'll just chill, I'll stay me. I'm gonna get stronger, I always do, but I'm not gonna purposely put on muscle just so I can be at a weight class. Stupid."
Adesanya is no stranger to fighting bigger men. In his kickboxing days, he won one-night tournaments in both the 189-pounds and 220-pounds categories — both of them taking place in 2015.
Comments
comments