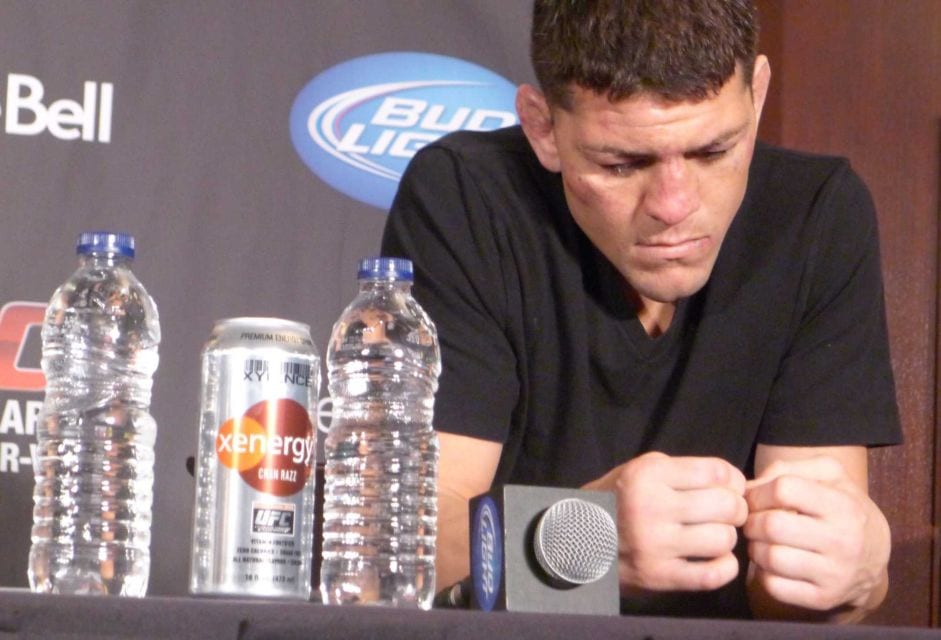 It always seems like something of a special occasion when Nick Diaz agrees to an interview and for nearly two hours, that is what he did on Ariel Helwani's MMA Show on Monday evening.
The sit-down chat was recorded a few days prior after the younger Diaz's doctor stoppage loss to Jorge Masvidal at UFC 244 a week and a half ago and it was clear that Diaz had some things to get off his chest — not least of which was his displeasure at Masvidal claiming that he was going to 'baptise' Nate Diaz, the same phrase he used to describe his knockout finishes of Darren Till and Ben Askren earlier this year.
But it appears that his disagreement with Jorge Masvidal goes deeper than that. All the way, in fact, to the genesis of the 'BMF' belt.
"That's my belt," Diaz said of the title belt awarded to Masvidal by The Rock inside Madison Square Garden. "But I'm not going to get in my brother's way of taking it, you know what I mean? But as far as I'm concerned that's my belt. I'm like, 'you just fought my baby brother.
"The BMF… that's my belt. You just fought my baby brother."@nickdiaz209 feels the BMF belt was his all along (via @arielhelwani) pic.twitter.com/7f1wZTyRQO

— ESPN MMA (@espnmma) November 11, 2019
"The reason why I say that is because he ain't got nothing to be mad about," Diaz elaborated about his brother. "He ain't trippin'. Trust me. We never skipped a beat. I have ups and downs with everybody but never with my younger brother. You know what I mean? We don't have that issue.
"This ain't up to no UFC. We've seen that in the past already. I don't need to do anything more than what I've already done here. I don't know what to tell you people. All I know is I've got a whole lot of people who feel the same way."
Diaz, who hasn't competed in the cage since a January 2015 match with Anderson Silva, after which he was handed a five-year suspension by the Nevada Athletic Commission for his third Marijuana test failure in the state. This was eventually commuted to an 18-month suspension but given the span of time which has elapsed since his last fight, the initial suspension has nearly been served regardless.
Comments
comments