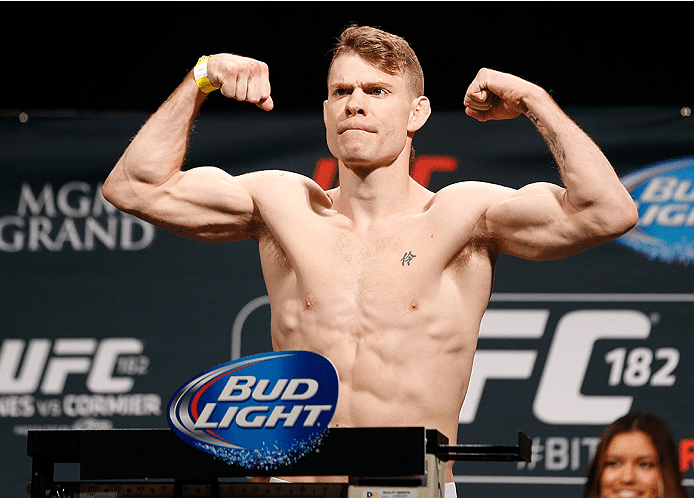 After seventeen wins and six losses, Paul Felder has called it a career.
The longtime UFC lightweight turned analyst rose as high as sixth in the UFC rankings in a time with the company which saw him register wins against the likes of Edson Barboza, Stevie Ray, James Vick as well as reigning UFC lightweight champion Charles Oliveira (in the Brazilian's last loss in the UFC in 2017).
His final two fights were losses to Rafael Dos Anjos and Dan Hooker, both by split decision.
However, at last weekend's UFC event in Las Vegas Felder, 37, made the announcement that he has called time on his career and spelled out exactly why in the post-fight presser.
"I really waited until I knew," Felder said to the assembled media, including TheMacLife. "After the [Dan] Hooker fight, it was kind of emotional and I lost the fight and I'm far away from home and it was a struggle. But then I did find that fire again when I got the RDA fight. I went back and did camps and I was helping Sean Brady get ready for fights and I was hitting pads, I was lifting again, I was doing all those things and just slowly over time I started drifting back towards doing my own things and really just loving doing this triathlon stuff on my own, having time, seeing my daughter everyday after school, dropping her off at school. Training in my own little pain cave at home in the garage and getting stuff done.
"I don't think I'm going to get to the belt. I think this is the first time where I finally really think after those two losses in a row, watching guys like 'Jacare' [Souza] break their arm, watching guys like 'Cowboy' [Cerrone] fight five more fights than I think they should. I'm not going to be that guy. I've said from the very beginning of this sport, I won't be that guy that fights past his expiration date and I think it's here. I think it's a touch early but I'd rather it be a touch early than a touch late.
"If a brand new contract just handed to me by the UFC without even negotiating, after that RDA fight, they took my contract, which still had three more fights on it, threw it out and said 'here's your new one.' It was a good one. It's one I've always wanted or close to it. Obviously, if I keep winning fights it will get better but who am I going to fight? Who am I going to fight right now?" Felder said.
"There's plenty of guys below me that are amazing. Islam Makhachev, Diego Ferreira, Gregor Gillespie, yeah they can probably beat me, I can probably beat them, I'm not excited about it. Tony Ferguson, three-fight losing streak, not excited about that. Don't want to do that. Don't want to do a week in the hospital, breaking my orbital, breaking my face, puncturing a lung, more scars and cuts than I can even count. I don't want that anymore.
"That spark that I need to fight, especially the way that I fight, it just wasn't there anymore," Felder said. "If I'm not itching to even get to training to get to do this stuff and I'm getting fight offers. The only reason it took this long is I gave everybody a chance to really convince me. The UFC was really good and really patient with me."
But Felder says that his decision, which came after much soul-searching, was the correct one for him to make.
"I don't want to get hit in the head anymore," he said. "I don't have any major health concerns right now that I'm worried about but I've been some battles and I've been in more battles than I've been in the octagon that I've been inside the room. I used to spar really hard and I've sparred really top-level guys for years and years and years and I'm creeping up closer to 40 everyday.
"I want to be able to do sports and do other things and do activities with my daughter and play with my dog and do stuff like that."
Comments
comments