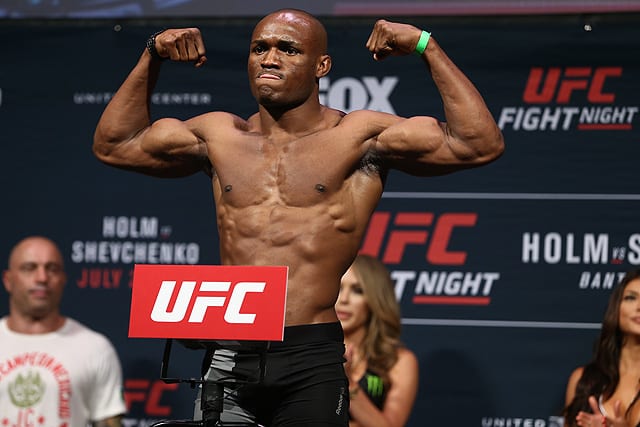 The combat sports world has been rife with crossover talk in recent months.
The latest to (quite literally) throw his hat into the ring is UFC welterweight champion Kamaru Usman, who has openly admitted that he would like to test his skills as boxing's pound-for-pound great Saul 'Canelo' Alvarez — something that the Mexican multi-weight champion dismissed as little more than an attempt by Usman at getting one last bumper payday before he eventually hangs up his gloves.
Usman, though, has maintained that he is serious — but one man who doesn't think it would go well for him is renowned boxing expert Teddy Atlas, who told The Schmo that he doesn't see Usman having success against even a middling pro, let alone the best fighter currently in the sport.
"He's got physicality, he's very strong, he's a decent puncher and he's not a bad striker — although I think a lot of his strengths are on the mat with his knowledge there and his physicality," said Atlas, via MMA Junkie. "You throw him in there with a B-level guy or even a good journeyman guy, no. I don't want to upset anyone with the fans out there, but as long as the rules are strictly boxing, no he wouldn't be able to have tremendous success there."
There have, of course, been several crossover fights between MMA and boxing recently, with Tyron Woodley's two losses to YouTuber Jake Paul being freshest in the memory.
The first major one, though, was Conor McGregor's challenge of Floyd Mayweather — and Atlas says he doesn't expect Usman to fare better than the Dubliner, who he said was up on the scorecards against Mayweather as the fight went past the halfway mark.
"To the credit of McGregor, he was ahead," Atlas explained. "I know you guys are going to probably choke on your pecan pie that you're having right now but he was ahead after four rounds. I was there for ESPN calling the fights, and I was there with the great Chael Sonnen sitting ringside and after four rounds he was ahead — he being McGregor ––and there's a reason for it: because he was using his reach.
"He's a southpaw, he's got long arms, he's a counter puncher and he was staying outside with the counter punching, using his reach, using his jab. Four rounds, he was ahead. But then, of course, Mayweather did what he had to do in his realm to break him down, and he did, and he got to him. But the point I'm making is, styles make fights."
Comments
comments