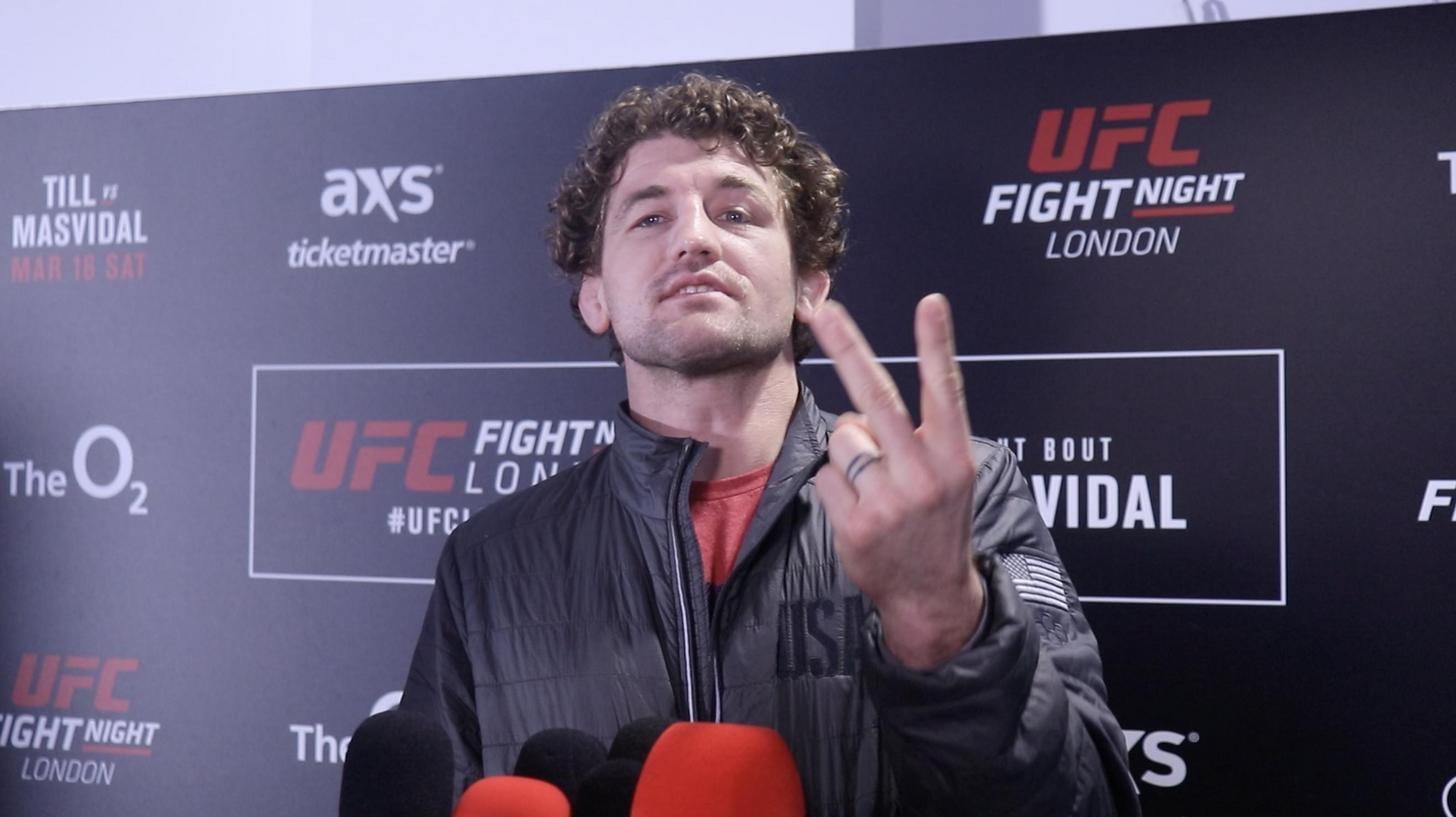 Ben Askren's quest to prove himself as the world's best welterweight is officially over.
The former US Olympian entered the UFC in late 2018 as part of an historic 'trade' with ONE Championship which saw former flyweight champion Demetrious Johnson travel in the opposite direction but after three fights, two of them defeats, the 35-year-0ld announced the end of his prizefighting career on Ariel Helwani's MMA Show on Monday evening.
Those two defeats, a now infamous five-second KO defeat to Jorge Masvidal in July and last month's submission defeat to Demian Maia, coupled with hip surgery that Askren must now face as a result of a series of injuries, has forced his hand. While he didn't quite achieve the success he anticipated in the UFC, Askren told Helwani that he has no regrets in the latter part of his fight career.
"I'm retiring from the sport of mixed martial arts, and quite frankly I'm retiring from everything," Askren said. "… I'd been having hip problems and I finally had the conversation with my doctor, we actually had the MRI done before my last fight, and I need a hip replacement. So that's it for me.
"I've been thinking about this for a week and what I'm gonna say. Really I've just been filled with gratitude for how great of a career I've been able to have, even though obviously in the end it didn't turn out to go my way."
His exit from the sport will rob the welterweight division of one of its more entertaining characters as well as potential future bouts with the likes of Kamaru Usman and Colby Covington, two men who had consistently been in Askren's crosshairs in recent months.
Nonetheless, several figures within mixed martial arts have paid tribute to Askren.
you talked the talk and you always made the walk wish you well on your retirement @Benaskren our paths will cross soon.

— Dillon Danis (@dillondanis) November 18, 2019
Congratulations to the man who got me into MMA on a hell of a career. Cheers to you @Benaskren ! Thanks for guiding me in the right direction as a wrestling coach, my influencer into fighting, and always giving me business advice. All the best in your next venture. #ufc #funkyben

— Corey Anderson UFC (@CoreyA_MMA) November 19, 2019
Happy retirement @Benaskren 🙌🏽#respect

— Douglas Lima (@PhenomLima) November 18, 2019
The UFC over the last year-plus would not have been the same without @Benaskren, on several levels. In the end, he retires with a 19-2 record with title reigns in both Bellator and ONE Championship. Through it all, he spoke his mind and did it his way.

— Marc Raimondi (@marc_raimondi) November 18, 2019
Ben Askren tells @arielhelwani that his storybook ending would have been beating Lawler, then Masvidal, then Usman at UFC 244 and then retiring as champion.

He didn't come to the UFC expecting to compete for three years.

— Aaron Bronsteter (@aaronbronsteter) November 18, 2019
Askren retires from MMA with a 1-2 record in the UFC (19-2-0-1 overall) and is a former ONE Championship and Bellator welterweight champion. He holds victories against Robbie Lawler, Shinya Aoki, Douglas Lima, Andrey Koreshkov and Jay Hieron among others.
–
Comments
comments