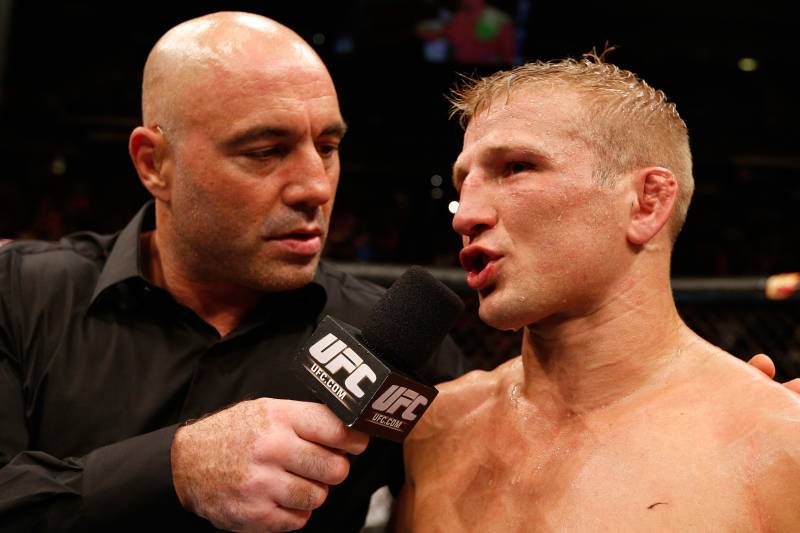 Just a few months ago T.J. Dillashaw was on top of the world. He was the reigning UFC bantamweight champion and had secured a title shot against flyweight champ Henry Cejudo in his bid to become the UFC's latest two-division champion.
Now, just a few short months later, Dillashaw is without a title and barred from competition until early 2021 after surrendering his 135-pound title and later being revealed to have tested positive for EPO, a drug which artificially inflates the human body's capacity to transfer oxygen around its system.
"To me, it's a shame because I'm a T.J. fan," Rogan said on the Joe Rogan Experience MMA Show (via MMA Junkie) with Herb Dean on Wednesday.
"I think he's a phenomenal fighter and I'm a big fan of watching him perform. But it just taints his legacy. It just does. There's no way around it. When you get caught cheating – this stuff, there's no way it's not cheating. This is just cheating. This isn't any accident. It taints your legacy, and the guy had an amazing legacy: two-time bantamweight champion, one of the best pound-for-pound fighters."
Dillashaw has yet to speak publicly on the positive test, though he did announce in March on Instagram that he was relinquishing his title after "an adverse finding" in a recently-conducted USADA test.
View this post on Instagram
"T.J.'s an amazing fighter, but fuck," Rogan continued. "To test positive for EPO in the Henry Cejudo fight … You've got to think, if you're on EPO – how much does that allow you to train extra time? How much does it allow you to recover? What is the quantifiable benefit? It must be pretty significant. … I almost want to try it."
Several fighters have openly criticised Dillashaw on social media, with former opponent Cody Garbrandt and SBG Ireland's Artem Lobov among them, with many suggesting that Dillashaw's two UFC bantamweight title victories have a very specific asterisk next to them.
Dillashaw's next comments will be interesting (especially considering his coach Duane Ludwig opted to not be overly critical) but it seems at this point that it will be an exercise in damage limitation more-so than of offering an explanation.
Comments
comments