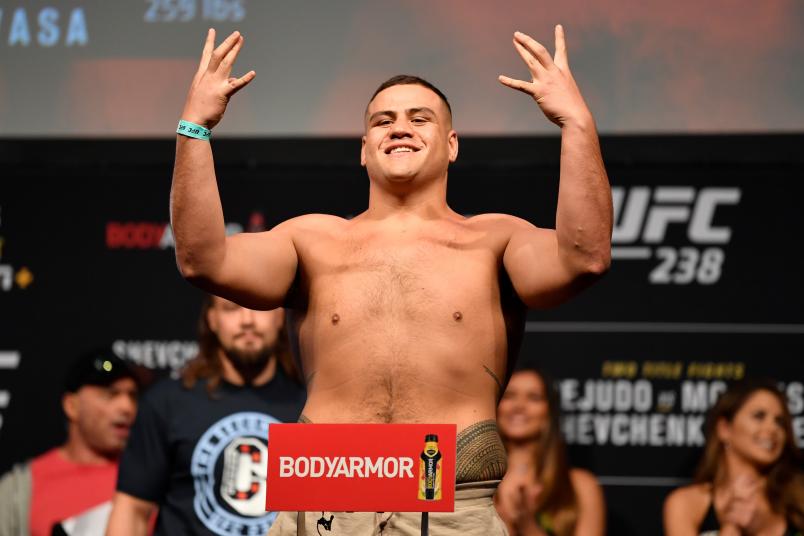 Fresh off what was a career-best knockout win against fellow slugger Derrick Lewis, Australia's Tai Tuivasa says that he wants to test his skills against the man often referred to as the best UFC heavyweight of all time, Stipe Miocic.
Tuivasa, who has claimed five stoppage wins in succession dating back to October 2020, has risen to the third spot in the official UFC rankings following his sensational face-plant knockout victory against Lewis a month ago and with the summit of the division somewhat uncertain at the moment given Francis Ngannou's injury and contract issues, a fight with the last man to hold the title seems like good business for the Aussie.
"I just think that that's the fight," Tuivasa said on The MMA Hour, via MMA Fighting. "He's in front of me, yeah? I think that's who I'd like to fight. I was asked who I'd like to fight and I think that's who I'd like to fight because he's been around, he's older, and I don't think he'll have many more left. I'd like to have a crack at him before he goes.
"I'm up there now. If I was number 11, I wouldn't be a d*ckhead and go, 'Oh, Stipe.' But my name says number 3 next to it and he's number 2, so I just think that [makes sense]. And like I said, he's the best heavyweight of all-time, so why wouldn't I challenge myself and have a crack against him? Just like the knockout king [Lewis]."
It is difficult to argue against. The 39-year-old Miocic is approaching a year out of action after he was knocked out by Ngannou last March and was reportedly unhappy that he wasn't considered for a rematch against Ngannou, or for the interim title created late last summer which contested by Derrick Lewis and Ciyrl Gane — and another part of Tuivasa's reasoning is that other fights against the division's top contenders will be there for a while, but with Miocic the clock is ticking.
"He's the best heavyweight in the world, I don't see why not. … I think [Ciryl] Gane and the rest of the boys will be around for a little bit, as in I'll probably see them, and I reckon Stipe Miocic probably doesn't have too many fights left," Tuivasa siad.
"That's someone I'd like to say I fought before he goes. For example, JDS [Junior dos Santos], he beat my ass but at least I can say I fought him. That's what I like about fighting. To say at least I had a crack, or I beat him. Sometimes I've lost and sometimes I've won — that's another fight I reckon I'd like to challenge myself [with]."
Comments
comments