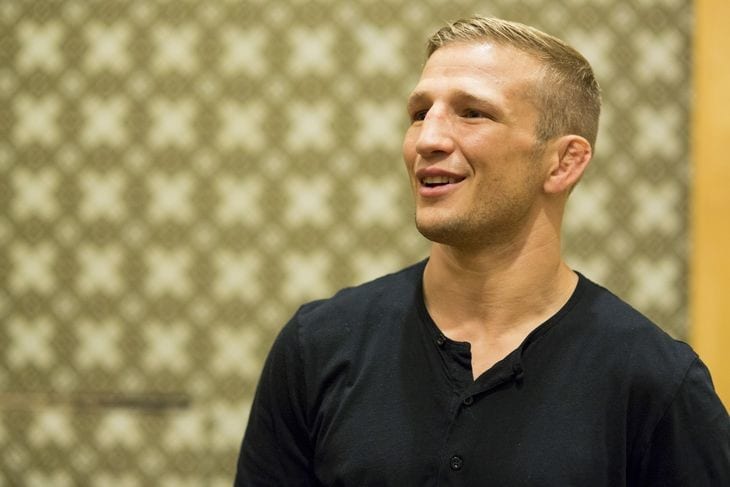 T.J. Dillashaw says he's ready to fight for UFC gold from the off upon his return from suspension.
Dillashaw has been out of mixed martial arts since testing positive for EPO during an in-competition drugs test for his fight with Henry Cejudo. But, while Dillashaw might have been absent, his name has not been forgotten and the bantamweight who have forged ahead in his wake have often called for a bout with him, including current 135-pound champion Petr Yan.
Yan meets Aljamain Sterling at the upcoming UFC 259, but it's safe to say Dillashaw has his eyes firmly locked on the fight.
"I'm ready to go straight for the belt, if that's the opportunity that comes at me because I know Yan wants it." Dillashaw said, speaking on the "Real Quick with Mike Swick" podcast. "He's already been vocally talking about it and we'll see what happens on March 6 when he fights Sterling. He's got a tough test ahead of him, but that's the fight he wants. I didn't leave this sport by losing my belt. He knows there's a lot of speculation if he's the real champ because he hasn't beaten the champion to get that belt, so he wants it. As well as that, I'm the biggest draw for him right now to try to fight."
Despite the lengthy lay-off, and the no doubt increased scrutiny due to his cheating, Dillashaw still feels confident about his return, and points to the number of opponents who want to meet him in the Octagon as proof he's still a relevant force.
"I'm in a good situation," Dillashaw said. "I think everyone in the top five has called me out. I want to come back and fight the best. I'm 35 years old now, I've got a lot of things in life going on, so I want to come back and prove that I'm the best bantamweight of all time, and I want to come back and fight the best. If that's for the belt right away then so be it. If that's fighting someone else in the top five, awesome.
"Every person that's called me out, I've said yes to the UFC, so that's just showing them that I'm eager to get back in there. So it doesn't really matter as long as it's someone that's at the top of the game, because I'm gonna climb up and get that belt back fast."
Comments
comments