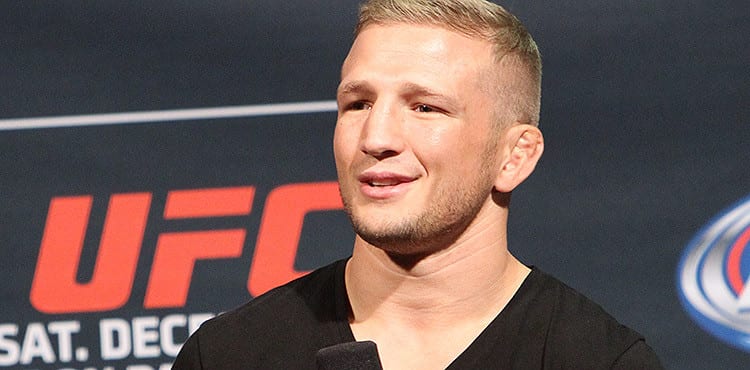 As far as active feuds in MMA go, T.J. Dillashaw and Cody Garbrandt might be one of the most personal.
Dillashaw and Garbrandt used to be teammates, before Dillashaw left Team Alpha Male to find his own path in his career. For Garbrandt, the move was an act of betrayal, and unforgivable. For Dillashaw, it's the members of Team Alpha Male who made the move so awkward, leaving him no choice but to be on the outs.
As the two approach their contest for Garbrandt's 135-pound title, the heated words show no sign of slowing down. Most recently, Garbrandt went on record to say that Dillashaw was merely an 'athlete', instead of a 'true fighter'.
This time, Dillashaw wasn't offended.
"I find that hilarious because it's actually more of a compliment, I'd rather be an athlete than a fighter," Dillashaw said, speaking on today's The MMA Hour. "An athlete's going to go out there and figure out ways to win, see the holes in the game. I do treat myself more as an athlete than I do a fighter, as a fighter you're a street thug. Going out there trying to knock someone out, being really aggressive. I'm going to go out there as an athlete just as he said, and pick him apart using that."
And while Dillashaw respects Garbrandt's abilities, he's not going to offer the same label back. After all, he says, Garbrandt isn't smart enough.
"Don't get me wrong, he's very athletic," Dillashaw said. "He's quick, he's got some great athletic attributes. I think yeah maybe his downfall is that he's more of a fighter. He could be more of an athlete, I just don't know if he's smart enough to be that way."
Another interesting part of context to this upcoming title fight is both men's apparent interest in gold in another division. At the moment, Demetrious Johnson reigns untested at flyweight (125lbs), and to defeat him would be a feat unparalleled.
Both Garbrandt and Dillashaw want that feat on their record.
"I would love that," Dillashaw said. "I wanted it when it should have happened. He's the pound for pound kingpin, he's the guy that's top of the world right now and I think he's a winnable fight. I think that I could have stopped him from breaking the record and it could have been something great, a big money fight for himself. And yeah, that's something I'd love to do, especially knowing that I can make the weight, knowing that 125 is a very doable thing.
"So that's definitely something that would be in my crosshairs but like you said, there's no way I'm overlooking Cody. It's one step at a time, and getting my original belt back."
Comments
comments