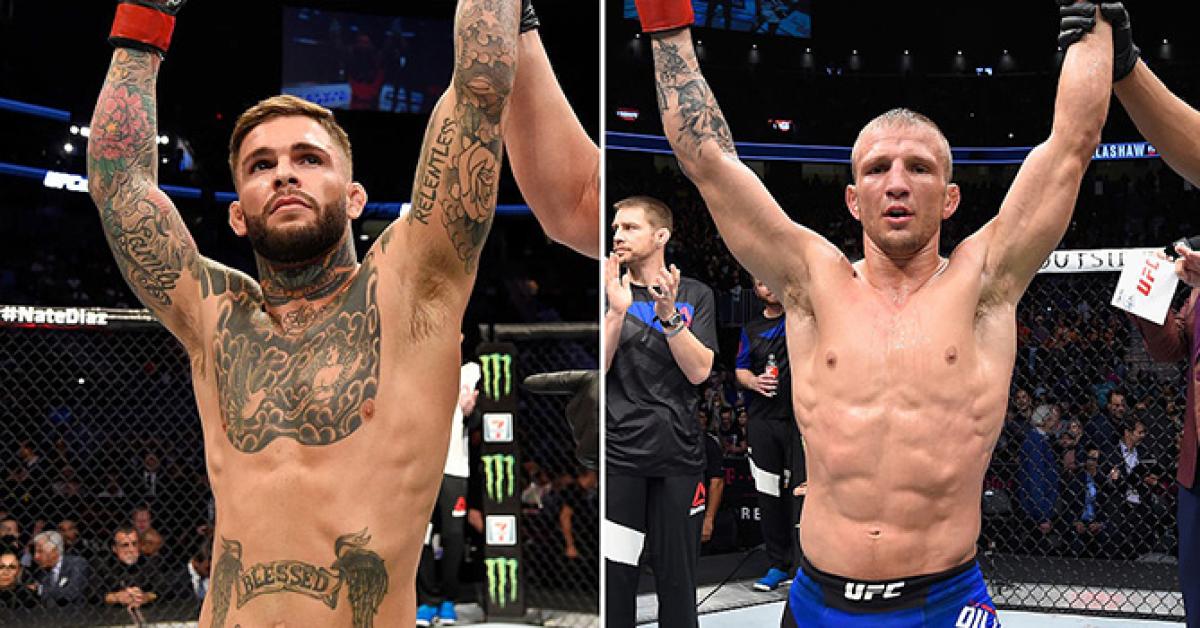 With Rose Namajunas and Joanna Jedrzejczyk set to rematch at this weekend's UFC 223 card in Brooklyn, New York, another of UFC 217's title fights seems set for a do-over after reports emerged that T.J. Dillashaw and Cody Garbrandt look set to do battle for the UFC bantamweight title once again at UFC 227 in Los Angeles on August 4th.
Dillashaw and Garbrandt have had one of the more protracted rivalries in UFC history, stemming from their time as training partners at Sacramento's Team Alpha Male before tensions arose as Dillashaw left the team to continue training under former TAM coach Duane Ludwig at another facility. The feud came to a head last November at UFC 217 when Dillashaw knocked Garbrandt out in the second round of their title fight, winning the UFC's 135-pound title for a second time in the process.
Now, as per ESPN's Brett Okamoto, the UFC are targeting a rematch between the two after tentative plans for a 'champion vs. champion' bout between Dillashaw and flyweight kingpin Demetrious Johnson appear to have fallen apart.
The UFC has a news conference scheduled for today and while neither Garbrandt or Dillashaw are listed as attending in the official UFC press release, Garbrandt has indicated on social media that he will be in Brooklyn.
See you soon Brooklyn!! 💪🏼

— Cody Garbrandt (@Cody_Nolove) April 4, 2018
Speaking to MMA Junkie earlier this year while he was actively campaigning for the Johnson bout, Dillashaw stated that he believes that Garbrandt should have to work his way back to title contention before receiving another shot at the gold. Dillashaw beat both John Linker and Raphael Assuncao upon losing the 135-pound title to Dominick Cruz before receiving his shot at Garbrandt late last year.
"He's never even defended his belt," Dillashaw said last February. "It wasn't even his belt, in my mind. Cruz is the only guy he's ever fought in the top five. I lost my belt, and I had to go fight No. 1 contenders to get my shot. So he needs to get to the back of the line and work his way back up and prove that he belongs. It's tough to get there, but it's even tougher to stay there and get back."
Comments
comments