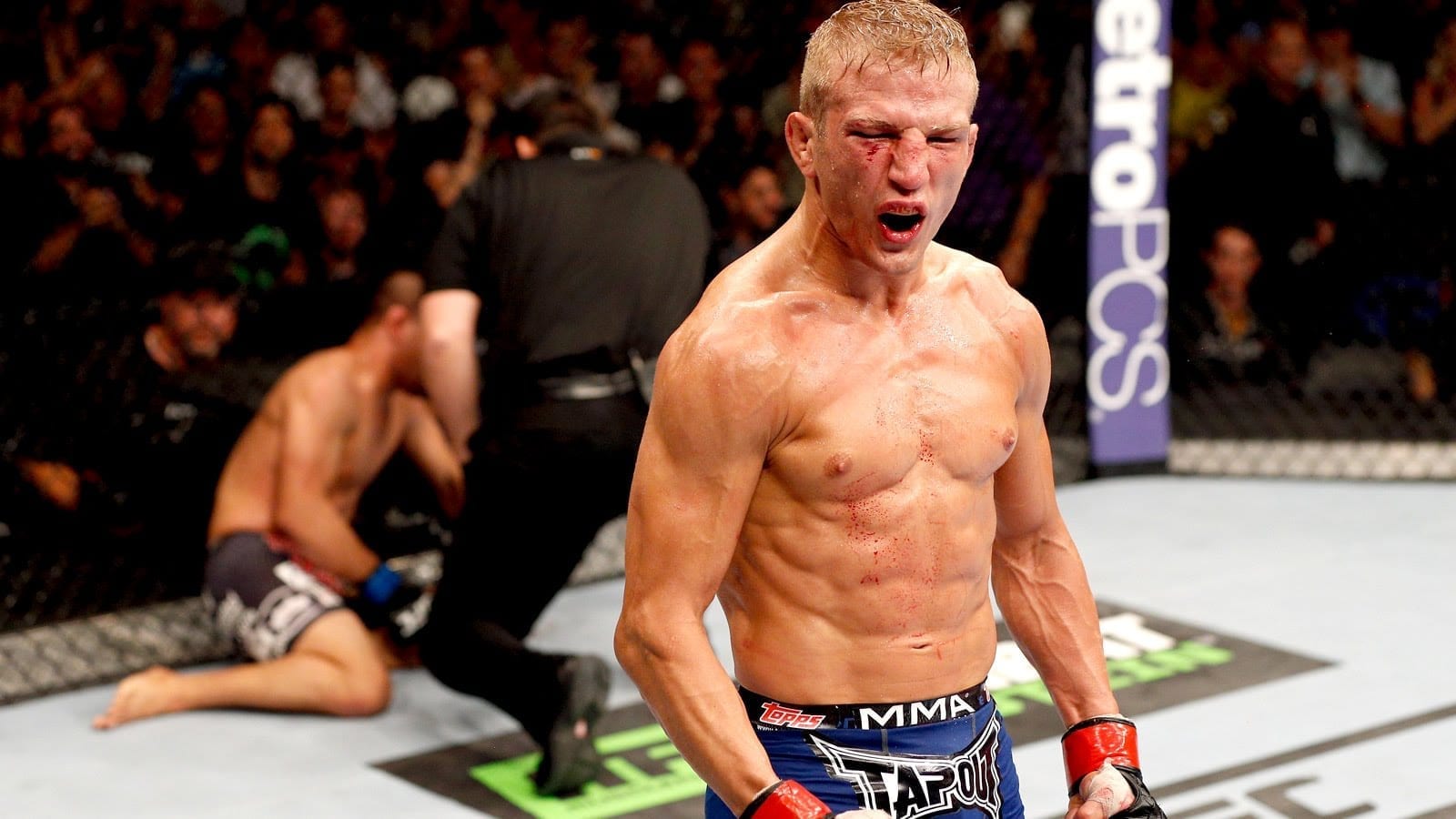 Former UFC bantamweight champion T.J. Dillashaw has been sitting on the sidelines for more than a year after failing a USADA test in the wake of his TKO defeat by flyweight champion Henry Cejudo in January of last year but says that when he is cleared to return to action, the UFC want him to jump straight back into the 135-pound title picture.
Dillashaw was handed a two-year ban from active competition after admitting to the use of the banned substance EPO but given that it is now around eight months until he can compete once again, Dillashaw has begun thinking of how to re-insert himself into title contention — and it seems that this is a view shared by the UFC brass.
"I was told I would get that title fight when I came back, but that doesn't mean anything," Dillashaw said via MMA Junkie. "I made a mistake — I don't own rights to anything. But if it was my choice, it would be title fight, if not top-five to prove I should get that title fight. I think that makes sense.
"I'm hoping they just throw me to the dogs. If I can't get that title fight, I want someone in the top five so that I can get my title fight. I'm not here to play around. I want my belt back. It's still mine. I'll be ready."
Somewhat predictably, Dillashaw's positive test was met with anger by several of his former opponents — notably Cody Garbrandt — but Dillashaw says that the time he has spent outside of the fight game has allowed him an opportunity to heal his body and spent more time with his family.
View this post on Instagram
"At first it was super tough," Dillashaw said of his enforced absence. "Then I went through two shoulder surgeries back-to-back, so that kind of added to it. Down in the dumps. On the top of the world, then down as far to the bottom as you can get. It was tough. I'm not going to lie. I would be lying if I said it wasn't. At first it was real, real tough. But I've always been mentally strong.
"I work my ass off and this has actually been — I wouldn't choose to do this – but one of the best breaks I've had ever. I've got to focus on other parts of my life. I did something I highly regret and I've owned up to it and paid the price for it. I hate to say it's a blessing in disguise, because I would never choose to do it again, but it is."
Despite taking the benefits from the situation, Dillashaw also says that his decision to take the illegal substance was inexcusable and the blame for doing so lies with him and him alone.
"I made the mistake," Dillashaw said. "I dirtied my name myself. It's not on anybody else. I gave them fuel. It hurts, but that's part of the payment — part of the payment for how I dirtied my name up. I've got to live with it now. . . I'm ready to push for that next goal and getting my belt back.
"Now I guess I get the opportunity to be a three-time champion, which is absurd. I don't feel like I should've lost it the first time. I get to recapture it all over again. I get to go through this process a fucking third time."
Comments
comments