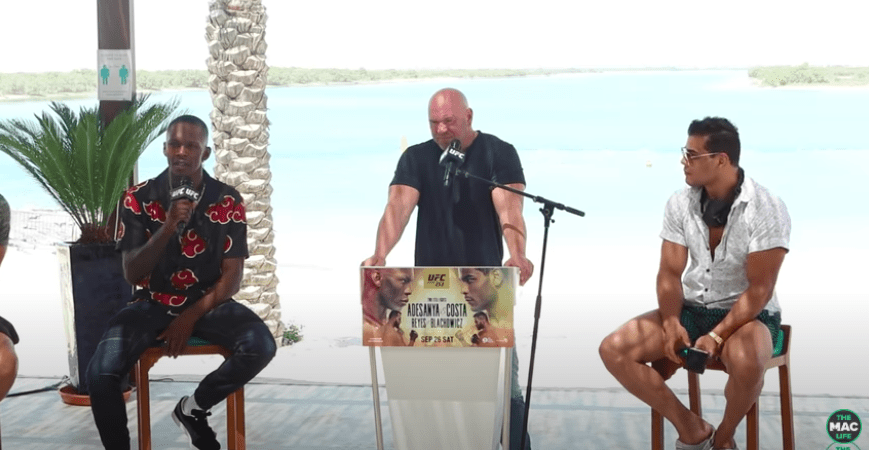 This weekend's UFC 253 main event is very much being billed as a showdown between two aggressive and undefeated strikers but the challenger for the middleweight title, Paulo Costa, has been keen to talk up his grappling credentials ahead of the fight. 
The 13-0 Costa has won 11 of his fights by KO or TKO, with just one win coming by submission since his pro debut in 2012 (he does have a submission win from The Ultimate Fighter: Brazil but, as you know, that is designated as an exhibition bout) and the Brazilian has warned Adesanya that there is more to his game than just his striking.
Adesanya, as you might expect, isn't quite in the humour to laud his opponent's ground skills 48 hours or so ahead of their fight.
"Before I become a striker I was a grappler," Costa said to the media, including The Mac Life, at the UFC 253 presser in Abu Dhabi. "I'm a black belt in jiu-jitsu, my brother's gym, my coach. I have a lot of knowledge on BJJ. Yes, this fight can be on the ground also."
"You sucked as a grappler," Adesanya shot back. "Whenever he shoots, he loses his gas tank within the first or second shot."
From here, matters descended into a heated back-and-forth.
"You never saw my grappling," Costa asserted. "No one needs to see your grappling because you suck," Adesanya continued. "You were on TUF on the floor saying, 'No, I gave my all. I give 100 percent.' You can't grapple for sh*t."
"Bullsh*t," Costa retorted. "You're a blue belt in jiu-jitsu. You cannot say nothing about jiu-jitsu. You're like a kid in in jiu-jitsu. You don't know how to do an armlock.
"I'll berimbolo you if I wanted to," Adesanya said, describing the BJJ scramble move popularised by Andre Galvao. "I'll grab your f*cking collar right now and put you in a bow-and-arrow."
"You never put a gi on your skinny body," Costa said. "Talk about jiu-jitsu with me. You're crazy."
Comments
comments