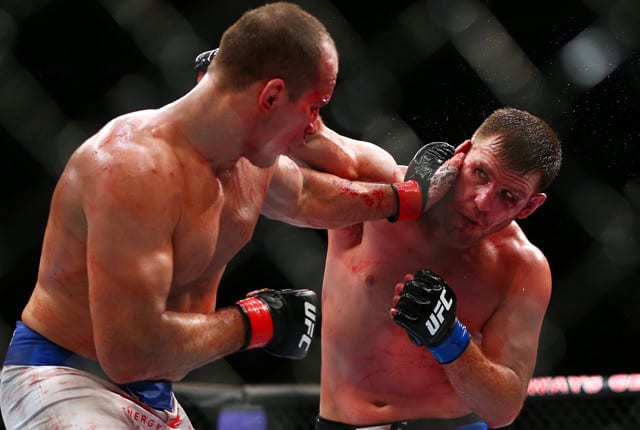 The topic of boxing vs. MMA has been a hot one lately as we edge closer to more clarity on the Conor McGregor vs. Floyd Mayweather boxing match but it's not just the two most renowned prizefighters of their respective sports who have been touting the idea of a potential cross-codes match.
Stipe Miocic, fresh from a title defense over former heavyweight kingpin Junior Dos Santos, has set his sights on a bout with Anthony Joshua and, as unrealistic as that potential clash might seem, Miocic is confident in his ability to stifle the world's heavyweight champion should their paths ever cross.
Speaking to the Fight Society Podcast, as reported by Fox Sports, Miocic stated his case for a date with the first fighter to defeat Wladamir Klitshko in 13 years.
"I think it would be a great fight," Miocicsaid. "He's an amazing fighter. I think it would be great, something different. I'd love to show what I've got. I think he's an amazing fighter, nothing to take away from him honestly but I think it would be awesome. Conor's going to do it. It's great cross promotion, I'd love to be a part of that.
"I did Golden Gloves and all that good stuff. I just love the fight. I think it would be a great fight. I think people would love to see it. [I'm] super confident.  I'm going to go out there and give it all I got. Listen, I've got the best coaches in the world and I'd definitely be ready for that fight."
The UFC and Dana White's allowance to allow for co-promotion between themselves and Mayweather Promotions, something that the UFC have resisted for the entirety of White's tenure as president, is a notable move away from their rigid policy but it remains to be seen if that type of wiggle room would be allowed for anyone other than the UFC's biggest star in Conor McGregor.
But you get the feeling that, now that the doors are open, this type of speculation will be commonplace in the immediate future of the UFC — especially when you consider the potential payday that would come from such bouts.
Comments
comments