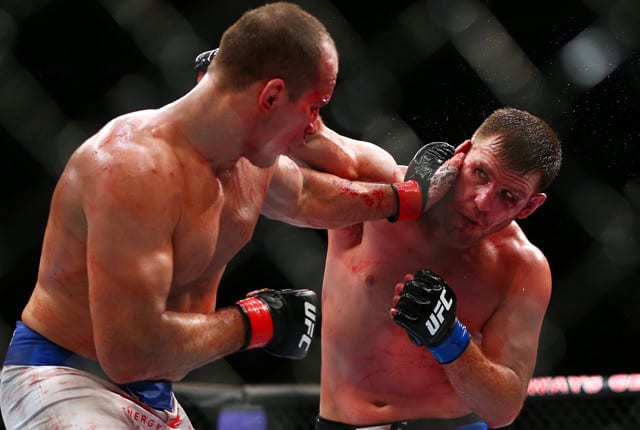 There is something of a UFC heavyweight title curse. 
The big man's belt has not ever in its history been defended by a champion on more than two occasions – such is the world with big men and small gloves. With Stipe Miocic though, it's not hard to see that legacy being snapped.
The Ohio native has all the skills and well roundedness of few before him, and while he has a tough task ahead of him in former champion Junior Dos Santos, Miocic plans on emerging victorious. Not that he's paying attention to the actual number of defences themselves.
"I don't really care about how many defences I have; all I care about is winning," Miocic said on the UFC 211 media call. "I love what I do. I'm going to keep winning. I train way too hard and sacrifice way too much to give it up. I'm just different. I get better every fight. I'm improving every fight and nothing is going to change."
It's not going to be an easy task. Heavyweight has a number of killers in the ranks, with names like Alistair Overeem, Fabricio Werdum (who are set to face off at UFC 213), Cain Velasquez and Francis Ngannou all ready to attack the champion, Miocic has a murders row after him.
That being said, he neither knows nor cares who is next. Just so long as someone is.
"I'm not a matchmaker — if I was I wouldn't be fighting," Miocic said. "I'm terrible at those decisions, but I know Overeem is fighting Werdum. That will probably be the next one up, I have no idea, but I'm not really worried about that."
—
Comments
comments