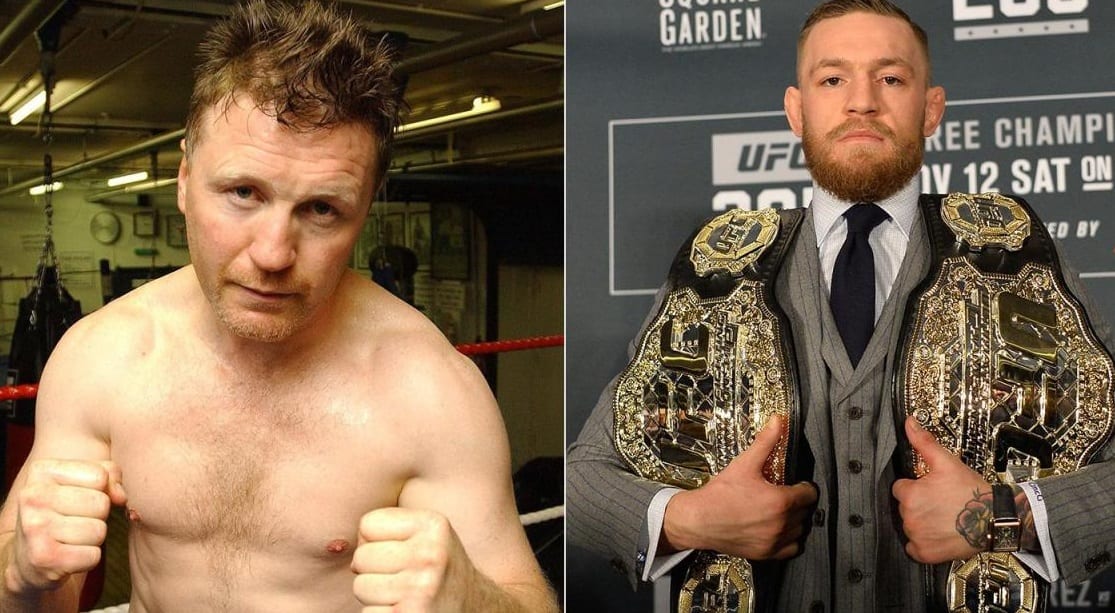 Steve Collins has a thing or two in common with Conor McGregor.
The two Dubliners, both two-weight world champions in their respective sports, were doubted by many along their route to the top. Collins was never thought to be able to compete with Chris Eubank and Nigel Benn, the two dominant super middleweights of his era, but fights take place in the ring and not on paper.
Collins defeated the then 41-0-2 Eubank in March 1995 to win the WBO super middleweight title to add to the middleweight belt he won a year prior, in what was considered at the time to be an upset of gigantic proportions.
Six months later he did it again.
In the summer of 1996, Collins was slated to face the the 42-3-1 Nigel Benn in a title defense and again, many analysts expected Benn's concussive power and nimble footwork would trump that of the Irishman. It wasn't to be. Collins won in the fourth round and, in the rematch, Benn quit on his stool at the end of the sixth.
As for McGregor, if you were to listen to some sections of the media the Dubliner didn't have much of a chance against Chad Mendes, or José Aldo. Nate Diaz was 'too big' and Eddie Alvarez was his 'kryptonite'.
McGregor has been placed in the underdog role for the proposed boxing match with Floyd Mayweather but, as Steve Collins said to Peter Carroll of MMAJunkie, the UFC lightweight champion has a realistic shot at blemishing the undefeated boxer's professional record so long as he trains correctly.
"Maybe Mayweather has the same feeling as me, and maybe that's why the fight has happened sooner, but I can see how Conor can beat Mayweather with the right coaching," Collins said. "I could tell you how he could beat Mayweather. I can see him doing it. A victory for Conor is something that can definitely happen, and I think he will shock the world.
"He has the tools and the ability. If he prepares the right way, he won't just beat Mayweather – he'll stop him."
McGregor has trained with Collins' brother Paschal in Dublin's Celtic Warrior gym on numerous occasions and, in tandem with his brother, Steve Collins says that they have formulated a scenario from which they can see McGregor taking full advantage.
"I really don't know where he is going to prepare for the fight," Collins continued. "All I know is that Paschal and I have sat down and spoke about this fight at great length. I think we have a great game plan for Conor to beat Mayweather worked out. Look, I'm not trying to say it will be easy, but there's definitely a way to go about this.
"I've popped by the gym when I'm in Dublin to see him work out. It's very exciting to watch a guy like Conor training because there is just so much talent there. I don't see why he can't bring that skill set over to boxing."
.
Comments
comments