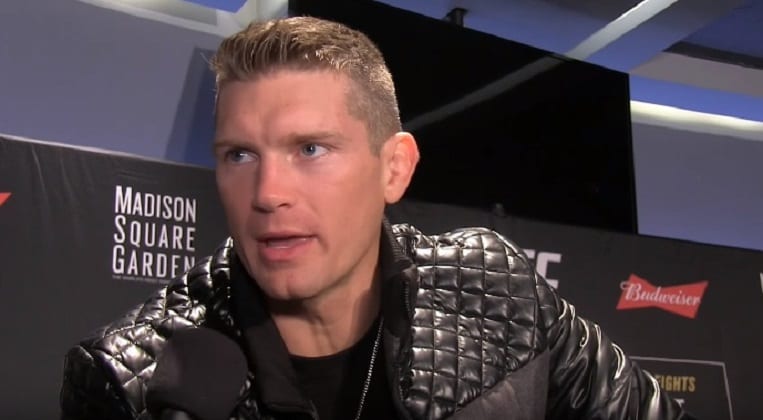 Leon 'Rocky' Edwards certainly hasn't had everything fall into place just as he would have liked in recent times.
The UK welterweight, who is currently in the midst of an eight-fight win streak in the UFC's talent-rich 170-pound fold, thought he had secured the top-ranked opponent he craved when he was paired with former champion Tyron Woodley before the global coronavirus pandemic (and governmental restrictions issued to mitigate its spread) caused the late cancelation of March's UFC event in London.
Woodley has since switched gears, appearing to position himself for a bout with Colby Covington once the UFC infrastructure is back in full swing, leaving Edwards apparently back to square one.
There is one welterweight fighter, though, who is willing to buck that trend: Stephen 'Wonderboy' Thompson.
The former two-time world championship contender earned a unanimous decision win against Vicente Luque in his most recent contest outlined to The Score who he sees himself fighting next — and Edwards is at the top of the queue.
"Leon Edwards would be an awesome (fight)," Thompson said. "Leon Edwards would be a good one. He's got great striking, man, and he's becoming a better MMA fighter every time I watch him fight. At first, it was just the striking. Now he's implementing the wrestling.
"When he fought Vincente Luque, the guy I just fought, he was taking him down left and right. He did the same thing to (Rafael dos Anjos) too, was taking him down and controlling him down. Man, this guy's putting in some work, man, his wrestling's getting a lot better, which makes him a very difficult opponent to prepare for."
View this post on Instagram
Failing that, Thompson is also projecting a potential fight with Covington but he doesn't see it as being quite as potentially entertaining as a match-up between two high-level strikers like he and Edwards would be.
"Colby Covington, for sure. I want to know what he has to say. He's definitely not good at (trash talking), I'll probably end up laughing at it," Thompson added.
"When you fight Colby Covington, you know what he's going to do. He's not going to fight me the same way he fights Usman. He's going to shoot and shoot and shoot and shoot. It may be a boring fight, but it may be a good fight, I think."
Comments
comments