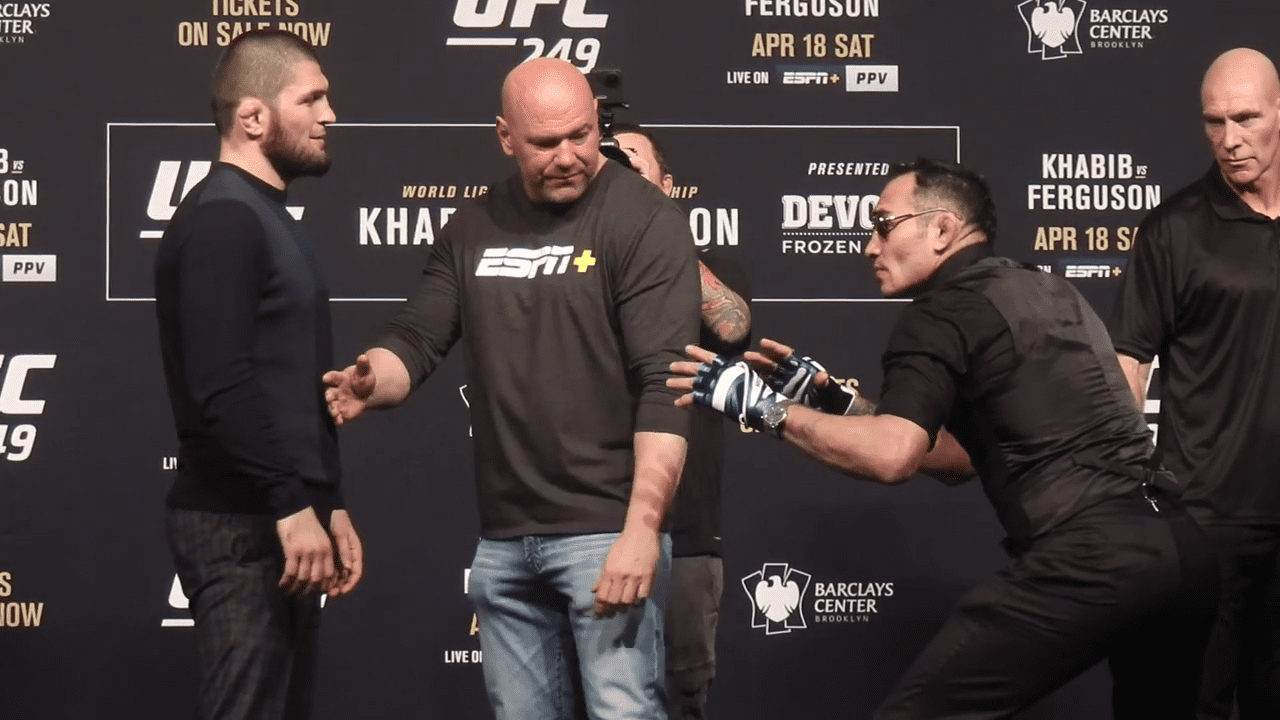 Khabib Nurmagomedov says that, if the UFC can confirm to him the location he's meant to travel to, he would still fight Tony Ferguson on April 18.
Yesterday, the UFC lightweight champion posted a lengthy statement to his Instagram that seemed to imply he was out of UFC 249 and would remain in Dagestan under quarantine. Today, Nurmagomedov has walked back those comments to reassure fans that, if the UFC can guarantee him a venue for the contest, he would be there on April 18.
"Right now, if they give me location, if I can come out from Russia and I can go to in any country, like U.S., Abu Dhabi, doesn't matter. I'm gonna fight," Nurmagomedov said, speaking to Brett Okamato of ESPN. "One hundred percent. One hundred percent I'm gonna fight. Just give me location. Every day I send Dana White message, 'Hey, where is my location?'
"This is not my mistake. And you know too many crazy stuff, too many questions, I don't have answer. I understand people upset, because this fight is dream fight for fans. This is my dream fight. I lose money. I lose so much money. I lose so much things. Nobody lose like I lose. Nobody. I lose so much things."
Khabib Nurmagomedov (@TeamKhabib) saying he never said he was out of 249, he just isn't going to fly anywhere when he doesn't know where he's flying to. He also doesn't believe getting out of Russia is as simple as others suggest. pic.twitter.com/pf5RSiwemG

— Brett Okamoto (@bokamotoESPN) April 2, 2020
Nurmagomedov and Ferguson have been scheduled to fight on five occasions, failing to meet in the Octagon once. The bout was originally scheduled to take place in Brooklyn, New York, but the coronavirus pandemic forced that to be scrapped.
Comments
comments