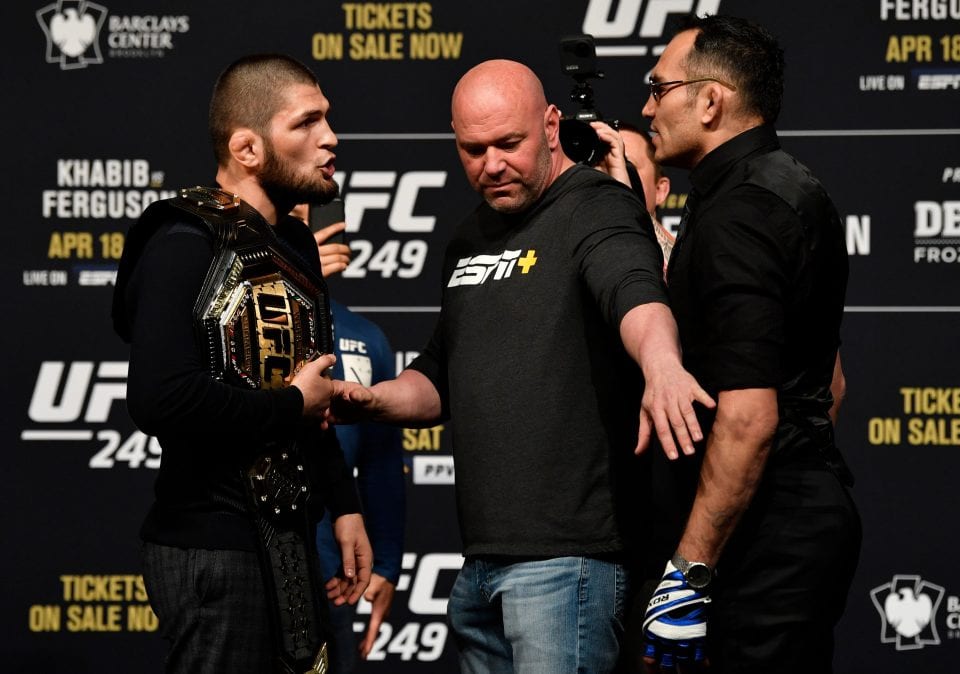 When Khabib Nurmagomedov announced he wouldn't be fighting at UFC 249, he had perhaps expected a different reaction than the one he received.
Nurmagomedov revealed yesterday he wouldn't be competing against Tony Ferguson on April 18 — the fifth time the fight has been scuppered — after flying home to Russia and not being able to train effectively.
Today, after apparently being irritated by some of the responses to his decision, Nurmagomedov took to Instagram Live to drive home his point. He doesn't know where the fight against Ferguson was supposed to take place, and he couldn't plan effectively.
"Nobody knows location, but everyone wants me to fly somewhere," Nurmagomedov said. "I don't understand this. UFC tried to find a location for one month. They don't find. What about me? This is my mistake? UFC don't send us location. Where we going to fight? I don't have location. That's why I'm not going to fight."
Continuing on, Nurmagomedov said he was being unfairly blamed for the fight falling through, rather than the times we're living in.
"My name is Khabib. I am not coronavirus," Nurmagomedov said. "My name is not coronavirus. Dana is Dana. Tony Ferguson is Tony Ferguson. My name is Khabib, but No. 1 thing what make me crazy is people say I pull out, or I do something. I don't understand this. I'm still training since December, I train very hard since December. I go to U.S. because UFC give me location, New York. I come to U.S., I'm training 40 days. Then when everything go crazy they say, U.S. 100% no fight. We move to Dubai. Why? They told me 99 percent it's going to be in Dubai.
"My last training camp I come to U.S, I train with coach (Javier Mendez) for 55 days, then we move to Abu Dhabi because fight was in Abu Dhabi. I understand. OK, if it's not Abu Dhabi, no problem. We did this before we can do it one more time. We come, and they close gate, but this not my problem. I make no mistake. One more time I want to say I am Khabib; I am not coronavirus."
Comments
comments