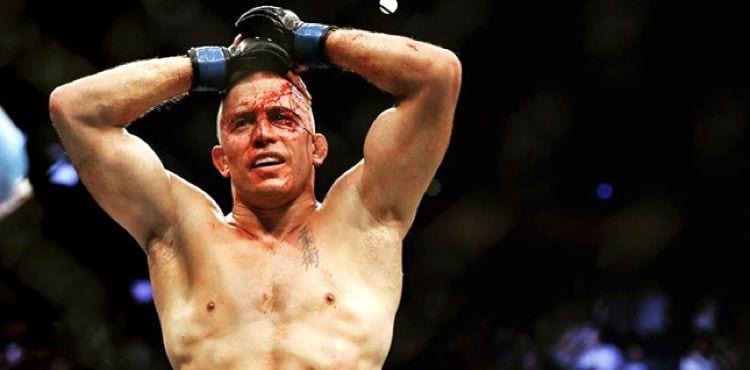 If you are looking for an update regarding the speculation stirred by Dana White about a potential Georges St-Pierre vs. Nate Diaz bout, don't like in the direction of GSP's coaching staff.
In recent days the UFC president announced on the UFC Unfiltered podcast that his organisation was "working towards" adding St-Pierre vs. Diaz lightweight bout to the August UFC 227 card which is scheduled to be headlined by the bantamweight title rematch between T.J. Dillashaw and Cody Garbrandt. However, when pressed by former UFC contender Kenny Florian as to elaborate on the plans, GSP's coaching staff weren't just tight-lipped — they were entirely in the dark.
"I haven't confirmed that with anyone in their camp. When I did bring it up to one of the coaches in that camp they seemed to be surprised and unaware about that news," Florian said on an episode of Submission Radio.
"The Nate Diaz fight, they weren't really aware of it. And again, maybe they're out of the loop, but my understanding is that they were taken by surprise and they didn't really know that was the fight that Georges was targeting or even wanted."
If the fight does indeed come to fruition, White raised eyebrows by saying that it would be contested at 155-pounds — a weight class in which the Canadian legend has yet to compete in during his UFC tenure. Diaz, for his part, has competed at welterweight in his two most recent bouts against Conor McGregor.
"No matter what weight class, whether it's 155-pounds or 170, Georges will have a significant size and strength advantage. So that is a tough fight for Nate. I would have to favour Georges St Pierre in that fight," Florian explained when asked for his thoughts on the hypothetical match-up.
Florian did speculate, however, that this contest could have tipped the UFC's cards as to their plans for the return of McGregor, with the winner of the GSP/Diaz bout in line to face the Irishman at 155-pounds.
"It does make sense. Not to say they wouldn't make a whole lot of money in that fight between GSP and Nate Diaz, but a fight against Conor McGregor is certainly at a different level."
Comments
comments