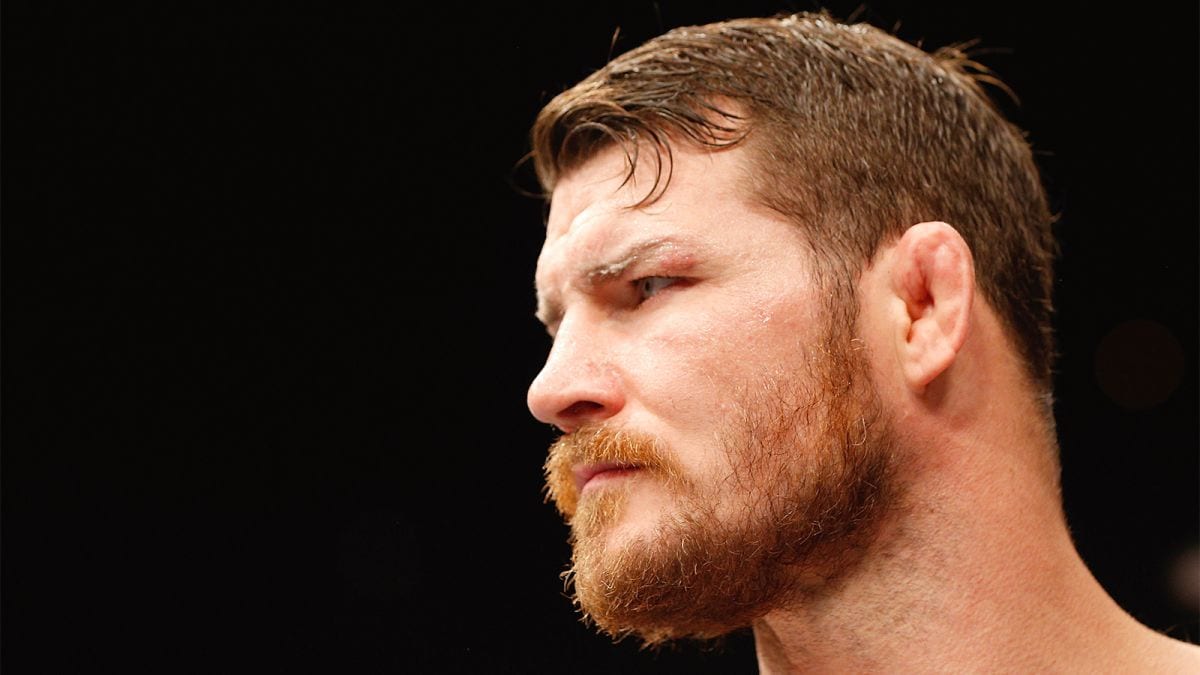 One of the subplots to emerge from Michael Bisping's recent induction to the UFC Hall of Fame with his admittance during his acceptance speech that he had spent time in prison in his younger years as a result of knocking another man unconscious during a brawl.
With Bisping's autobiography 'Quitters Never Win' set for release later this year, the English former UFC middleweight champion elaborated on the incident during an interview with Ariel Helwani via ESPN.
"It was a bar fight, I went into a bathroom and my friend was on the floor getting his head kicked in by two people so what are you gonna do?" Bisping said (h/t MMA Mania). "A fight starts and it spilled outside and continued out there. And then a guy used a woman as a human shield as a distraction as another guy was inching closer in my peripheral vision, I could see him. Maybe today with my vision a little messed, I wouldn't have seen him. But back then I had perfect 20/20 vision and my peripheral was fine and he was inching closer with his fist clenched. I knew what he was going to do and after years of martial arts training, the one thing that I chose to put him down with was a high kick to the head."
"Maybe a little bit of an over-reaction, maybe I shouldn't have done that. Shin on chin occurred, he went down, the cops pulled up and I went to prison for a while."
View this post on Instagram
Bisping revelation of this during his HOF speech was the first time that this story had been aired in such public fashion, and when pressed by Helwani as to why this information had remained unknown for all of these years, Bisping said that he feared that he would be unfairly defined by what was a momentary lapse in judgement.
"I did mention it at the Hall of Fame thing, it kind of slipped the tongue so to speak because it was in the book, I knew it was coming out soon," Bisping explained. "At the time I was trying to put that behind me, become a new person, reinvent myself. Of course when I was younger I made a lot of mistakes, a lot of people do. I'm only human. Maybe I made some more than others. Found myself in trouble with the law a few times. I was never a criminal but I was always quick to get into a fight, go figure I became a pro fighter. But yeah, I went to prison when Rebecca was seven months pregnant, that was obviously a low point for me and her.
"When I became a mixed martial artist, I didn't want that to be the stigma, I didn't want it to be 'Oh look at this, another tough guy, another criminal coming into cage fighting.' Because you automatically assume the wrong thing. So I never spoke about that. Of course I wasn't proud of that, and it was a part of my life or an era of my life that I chose to forget and put behind me and become somebody new. But now my mixed martial arts journey is over and I've written a book, so it's only fair to tell the truth, warts and all so to speak."
Unsurprisingly, Bisping wasn't particularly a fan of the maximum security facility that he was sent to.
"It was shit. I'm not in a rush to go back," he said with a laugh. "It was terrible. For some reason I went to maximum security prison, 23 hour a day lockup, an hour outside your cell a day to walk around in circles, so it wasn't fun. But it taught me some lessons."
It is perhaps interesting to note that if this incident was a low point in his life, his greatest achievement (in the sporting arena at least) also came from knocking another man out, when he defied the odds as a short notice opponent to defeat Luke Rockh0ld for the UFC's 185-pound title in June 2016.
Comments
comments