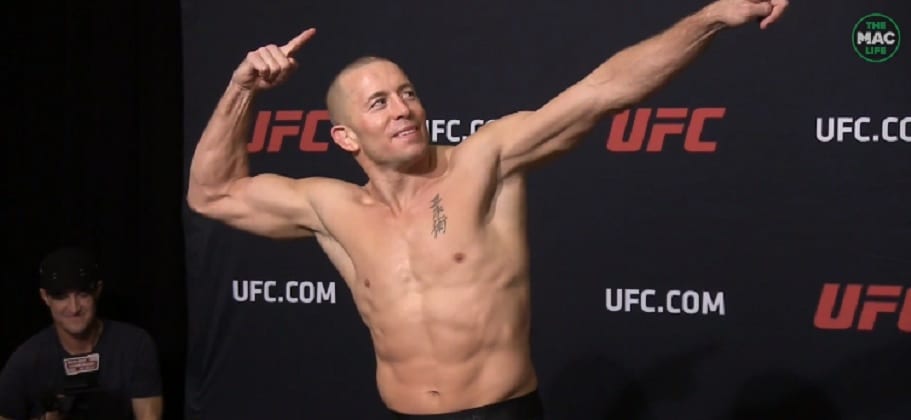 Before announcing his retirement from mixed martial arts earlier this year, Georges St-Pierre acknowledged that the only fight he really wanted to make before he stepped away for good was one with lightweight champion Khabib Nurmagomedov.
According to St-Pierre, he approached the UFC about making the contest — one Nurmagomedov has also expressed an interest in — only for the promotion to swiftly decline the opportunity. And while St-Pierre and UFC president Dana White haven't always seen where the other is coming from, St-Pierre acknowledges the UFC boss' reluctance.
White had gone on record as saying St-Pierre's return in 2017, winning the middleweight title to immediately drop it was the reason behind his objection to letting St-Pierre fight another champion to potentially walk away immediately after.
"A lot of people are attention-seekers; they retire to come back," St-Pierre said, speaking on TSN's Montreal 690 Radio Show. "I'm not that type of guy. We tried to make the fight with Khabib and the UFC told us they had other plans.
"Khabib wanted the fight, I wanted the fight, but unfortunately, it did not happen. That's the reason why I retired. And for me, it's a lot more to lose than to win now. And the most important thing for me is my health. And I'm no longer – right now as I'm talking – pursuing my goal, which back in the day was to be the best fighter in the world.
"I was for many years, and it's not my number one priority anymore."
Still, even as a retired athlete, St-Pierre can't help but analyse the Nurmagomedov bout and try to find a route to victory.
"If I want the legacy fight, Khabib is the man to beat right now," St-Pierre said. "He is the best fighter in the world right now to me. Undefeated, and he hasn't shown any kind of weakness. Nobody has ever been close to solving the puzzle. So that's why it was very interesting for me.
"There are different areas of the fight where I'm better than him. Even though he's better than me in some stuff, I'm quicker in and out and controlling the distance and getting inside for the takedown. (I'm) faster in the open stance.
"He's better near the fence. I'm better in the open. If I get that fight in the open, I win."
Still, he admits, it's most likely a bout we'll never see.
"Maybe they don't want me to beat him because if I leave after that, I ruin their own investment," St-Pierre said.
Comments
comments