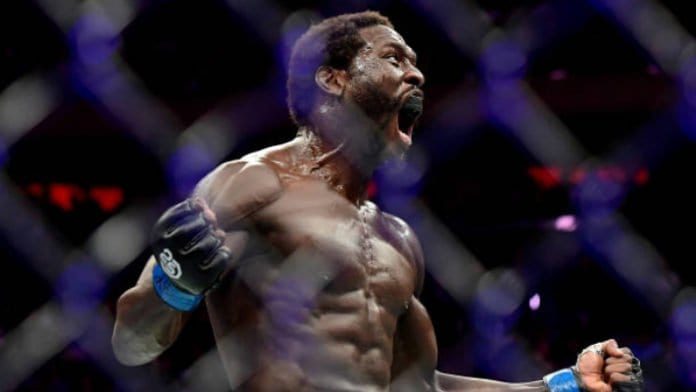 A matchup scheduled for August between former title challenger Paulo Costa and Jared Cannonier had promised fireworks in the UFC middleweight division but the Brazilian's decision to pull out of the fight amid concerns with his pay isn't a problem with Cannonier.
Costa withdrew from the proposed contest this week after complaining that he needed to be "paid like a main event fighter" after Logan Paul earned a reported $2o million for his exhibition boxing match with Floyd Mayweather last Sunday night, in the latest episode of fighter pay grumbles to take place in the UFC.
But despite missing an opportunity to rise further up the 185-pound rankings, Cannonier has backed Costa's decision to pull out and said that somebody has to speak up in the ongoing fighter pay issue.
"Well, I don't know how much he's getting paid per fight, but it's a common argument," Cannonier told Submission Radio via MMA Junkie. "MMA fighters, UFC fighters, MMA in general fighters don't get paid as much in comparison to the organizations or the promotions are getting paid. So, yeah, I mean, I understand the argument. I can't hate on him or knock him or chastise him for having his stance. It's a very bold stance to say, 'I'm not gonna fight unless you guys pay me some more money.' But, yeah, someone's gotta fight for us fighters to get paid more.
"And I'm not gonna turn down a fatter paycheck either. So, it is what it is. It's his choice. With that being said, he has to be able to deal with the consequences of that, not fighting and maybe even losing his position. He's ranked No. 2 right there. He's just fought for the title, so he's right there. He can get right back in there with a few wins. But once you get a title fight, that's when you start getting pay-per-view points, that's when I hear the money starts rolling in. I wouldn't know. I'm not there yet.
"He's fighting for something that I would fight for," Cannonier said. "He's fighting for me. So, it's just like me talking down on our soldiers fighting someone, a terrorist or something like that."
It was confirmed that Cannonier will instead face Kelvin Gastelum, who he says will prove to be another worthy opponent in Costa's absence.
"He's one of the top 10; he's challenged for the interim title before," Cannonier said. "He's fought a lot of the top guys, so he has a big name behind him, as well as the skills to back it up. So, he was one of the names that came up on the board. Because again, everybody else was booked up. Uriah Hall was, Brunson was, Till. Those two were booked up. Anybody who was the toughest, rankest person available.
"What we all know is that he's got a good wrestling base, he's got knockout power in his hands, he's not afraid to mix it up with bigger guys. He's been in the middleweight division since he's come up from the welterweight division. So, he's not necessarily a big middleweight, but he's been in there mixing it up with the middleweights. So, he's got the heart of a Mexican warrior and a big ass head to go along with it."
"I like big targets, and he's a big target."
Comments
comments