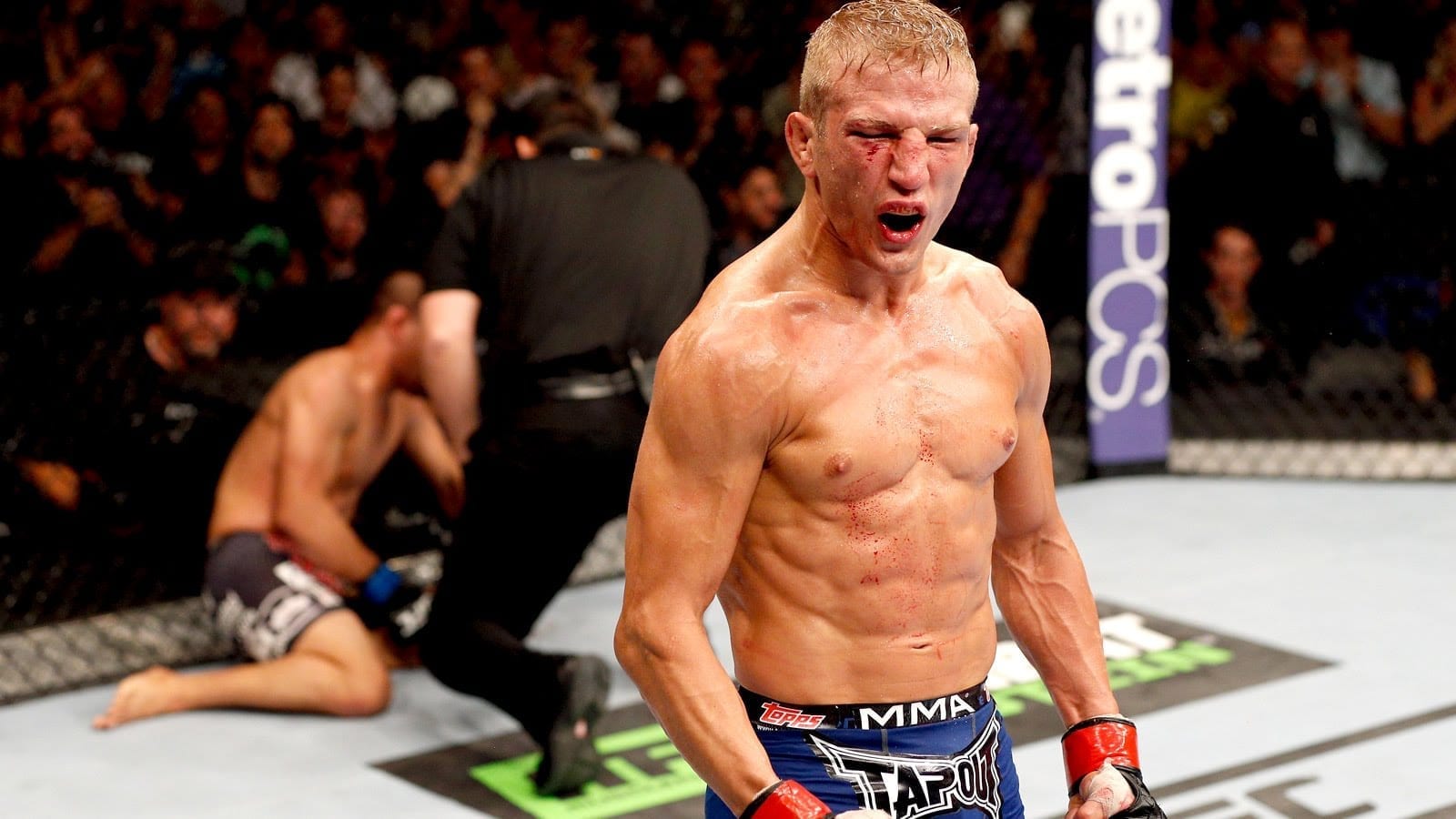 Former UFC bantamweight champion T.J. Dillashaw has offered up no excuses for the two-year ban levied against him after being found to have ingested prohibited substance EPO ahead of his flyweight world title bout with Henry Cejudo earlier this year.
Dillashaw lost by TKO just 32 seconds into what he intended to be the addition of a second world title bout to the 135-pound title he already held, and shortly after the fight announced on social media that he was to relinquish his championship after being notified of a test failure by the United States Anti-Doping Agency (USADA).
The drug in question — Erythropoietin (EPO) — improves the production of red blood cells in one's system and is known to increase endurance on high performance athletes.
And speaking with Ariel Helwani via ESPN on Monday, Dillashaw was adamant about being up front about the situation.
"I took an anemia medication called Procrit, which the main ingredient in it was Erythropoietin (EPO). It helps rebuild blood cells," Dillashaw said. "When you become anemic, your red blood cells start to plummet and you lose energy. I was on a super strict 1600-calorie day diet and working too hard. I pushed my body to extreme limits.
"No excuses. I made the mistake of wanting to do something that hadn't been done. I sold my soul to the devil and now I got to build myself back up and deal with it."
Dillashaw's pursuit of gold at 125-pounds, he says, was a bad move. The fighter reduced himself to around 4 percent body fat and a strict 1,600 per day calorie limit, leaving him without energy and sapping his motivation to fight.
"I was getting down to that bare minimum weight where everything was affecting me. I didn't want to wake up and train in the morning. I had to lose a bunch more weight and I didn't want to go to the gym, I didn't want to run and didn't want to do what I had to do," he added.
"I got drug tested and I decided I would be able to be clear until the fight, then I fucked up and made that decision. Like I said, I wanted to make it to the fight, I wanted to do something that was unheard of and I let it get the best of me."
The former champion was keen to note that no one — not his coaches, team or training partners — were aware of what he was doing and that the buck stops solely with him when it comes to this mistake.
"I have been as up front as possible with everything. I have admitted to it, and it almost seems as if it's been a little bit harder at first. I relinquished the belt before any kinds of decisions were made by USADA, I admitted to it and I wanted to put it behind me," he said.
Dillashaw will be 35 by the time he is eligible to compete again and says that he doesn't want to wait on the sidelines for a tune-up fight, instead he sees himself being instantly inserted into the fights which could change the complexion of the title picture at bantamweight. That, or as he mentioned in the closing moments of the show, a fight with Floyd Mayweather.
And while that latter wish looks unlikely, Dillashaw is keen to put the entire incident behind him.
"I made a mistake and what I have been taught is that you handle it straight on instead of continuing to hide from it or run from it and now I am moving past it."
Comments
comments