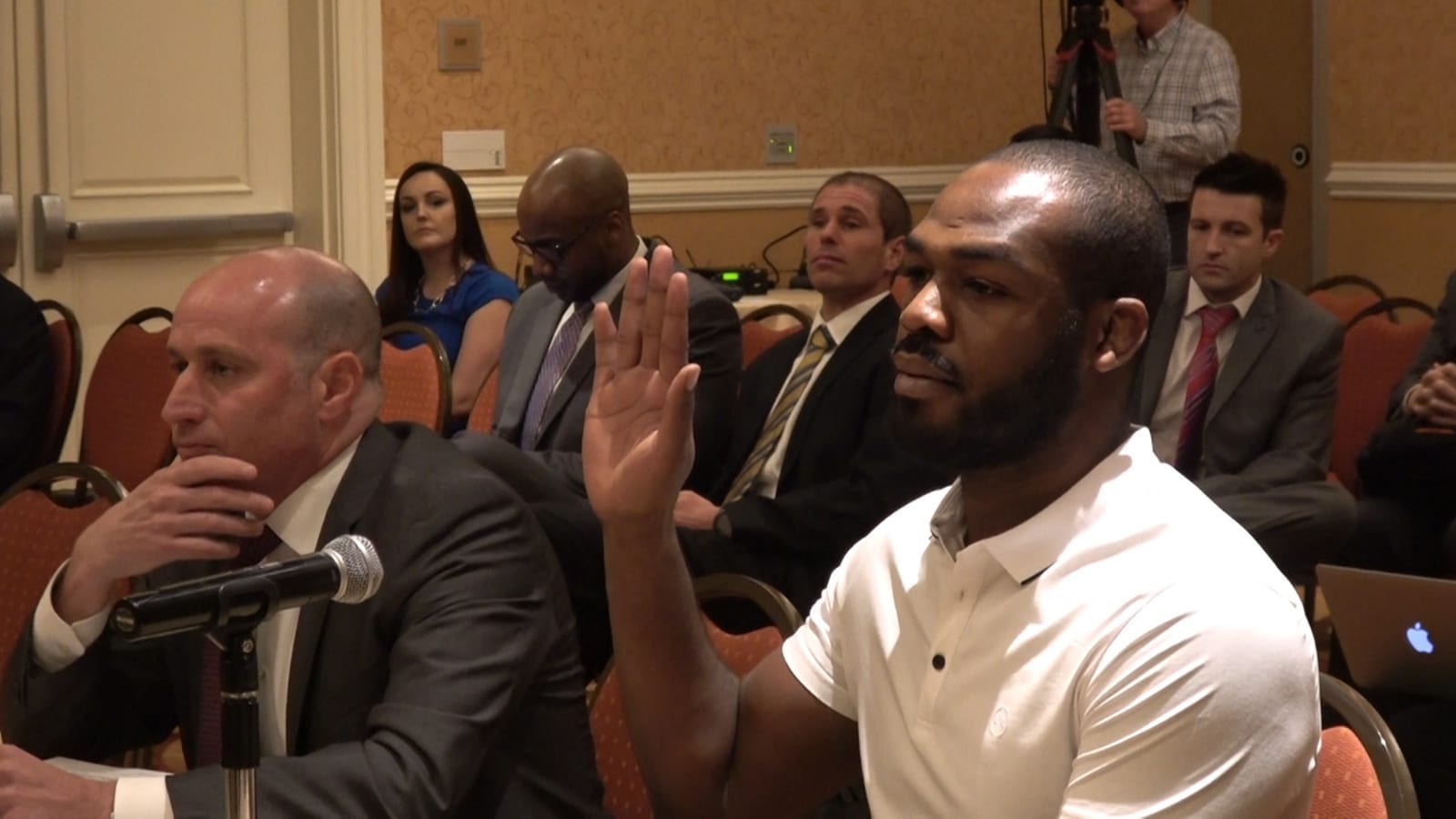 When Jon Jones walked out of his hearing with the California State Commission this morning, he did so with one important part of his latest controversy (or ordeal, depending on who you believe) in the books.
After asking questions and listening for around three hours, the CSAC ruled to fine $205,000 (just over 40% of his fight purse for UFC 214) and revoke Jones' license, retroactive to last August. While the former UFC light heavyweight champion could technically apply for a new license in about six months, the commission made it clear they would expect Jones to fulfill whatever punishment he receives from the U.S. Anti-doping agency in his next hearing, on a date yet unspecified.
For the uninitiated, Jones' test failure meant he would have to face two hearings. One with the State in which he failed the test, California, and one with the UFC's anti-doping agency partner, USADA.
So what can we take away from today? Well, first of all, this was a) by no means a walk in the park for Jones, and b) certainly not the end of his current predicament. Because while Jones may have come to Anaheim to argue his case, proclaim his innocence and look for leniency, he didn't exactly do so in the most effective of manners.
For instance:
Despite testing some seventeen supplements, Jones and his team had no answer for how the steroid Turinabol came to be in Jones' system, nor did they offer a defense for where it could have come from.
Despite insisting he had used his time away from active competition to mature and make changes to his life, Jones could not provide specific examples as to how after repeatedly being asked to do so.
Despite stating his last grievous error in judgement was the hit-and-run in 2015, Jones appeared to stun the commission by admitting he had lied on paperwork about supplements he'd taken, and revealed his management had forged his signature on educational tests he was supposed to have completed in regards to banned substances.
All in all — as it's been said many times before now — Jones struggles to get out of his own way.
And still the CSAC showed, well, mercy.
After it seemed Jones' main point of argument was it would have been "stupid" for him to take Turinabol before a drugs test he knew was coming, the Commission mostly focussed on Jones' past and his ability to consistently find himself in trouble. Then, after giving him an hours grilling or so, multiple members stated their understanding of how much damage they could have caused to Jones' career, and a reluctance to carry out such a sentence. Instead, they chose to revoke Jones' license until such a time as USADA's dealt with him, which for all intents and purposes is cashing a $205,000 cheque and leaving the anti-doping agency to decide how bad to really hurt the fighter.
But what exactly can we expect from USADA? There doesn't seem to be a definitive, predictable outcome per se. Currently, one gets the sense there is a level of skepticism amongst MMA fans, that the money Jones can generate means he'll end up back in the cage sooner rather than later. While their cynicism might prove to be well founded, it's perhaps worth nothing that the last time USADA met with Jones, they surprised many by handing the light heavyweight the full available penalty.
On that occasion, Jones had failed for the banned substances clomiphene and Letrozol, which he blamed on a contaminated sexual aid. Despite acknowledging Jones had not intended to consume the prohibited drugs, the USADA sanction was handed down with damning judgement, with the arbitrators stating Jones' "degree of fault in fact verged on the reckless."
With this being his second appearance in front of USADA arbitrators, it's currently believed Jones could be given a suspension of anywhere from a light eighteen months to a career ending eight years. If Jones was expecting to walk into that particular hearing with an already given punishment to point to from the CSAC, he'll be disappointed. Indeed, after making some of the self-incriminating statements, he perhaps goes into his next hearing in a worse position than his first.
As for fans, the only solid takeaway from today's proceedings is that a sense of resolution has been kicked down the road once again, and the saga of Jon Jones will continue for now.
Comments
comments