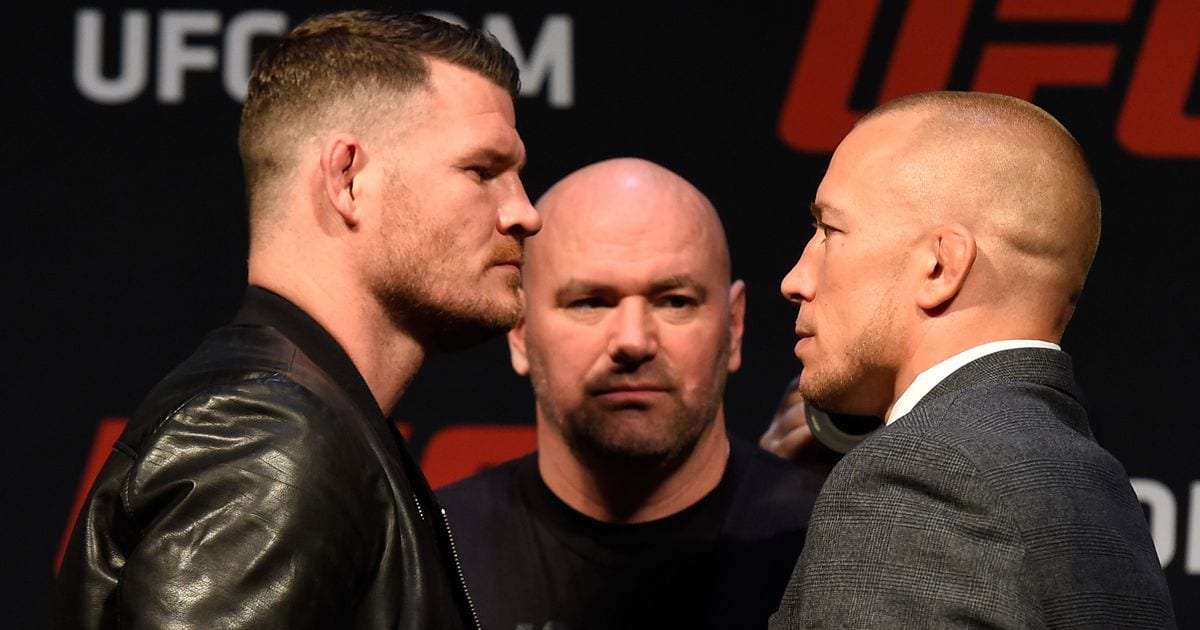 The eyes of the mixed martial arts world will be firmly fixed on Madison Square Garden next weekend when Michael Bisping welcomes the returning Georges St-Pierre back to the UFC.
Several fighters across numerous weight categories had campaigned to be GSP's opponent for his first fight in four years, including current welterweight king Tyron Woodley, but instead — and perhaps due to his concerns over weight-cutting — his return comes in a middleweight division in which he has not yet competed.
St-Pierre will join a small list of fighters, Conor McGregor among them, to receive a title shot in his first bout in a particular UFC weight class, a move made possible by his era of dominance as the former 170-pound champion of the organisation. St-Pierre will give up around four inches in height and likely several pounds in weight by the time both fighters set foot on the canvas on Saturday week (though St-Pierre actually has a half inch reach advantage on Bisping) and it is likely that the flow of the bout will be determined by whether or not St-Pierre is capable of taking his opponent to the mat.
Bisping has traditionally had above average takedown defence, stuffing 64% of the attempts that have come his way throughout his eleven-year tenure on the UFC roster. Add to that the fact that Bisping competed at light heavyweight (205-pounds) for the first 15 bouts of his professional career, which includes a 4-1 run in the UFC at that particular weight.
And, as significant as St-Pierre's accomplishments have been throughout his mixed martial arts career, Bisping says that he's simply too small to pose any realistic challenge to the UFC middleweight champion. Furthermore, the Englishman cast doubts of the level of competition that St-Pierre faced during his run as welterweight champion.
"He's fought a lot of the same people over that period," Bisping said of St-Pierre at the UFC 217 media lunch as reported by MMAFighting. "He's fought them multiple times. And if you go through the opponents. I mean, BJ Penn, who he fought twice or three times, he's a featherweight, right? Johny Hendricks, I mean look at Johny Hendricks these days. But still.
"Nick Diaz is a welterweight. Carlos Condit, oh, that's a good win. Josh Koscheck, Dan Hardy, Thiago Alves — lightweight. BJ Penn — featherweight. Matt Serra — lightweight. These are all smaller guys."
Bisping maintains that St-Pierre's physical stature compared to his opponents (he is said to have cut more than 20-pounds to make the welterweight limit) was crucial to his success and plans to turn the tables next weekend in New York City.
"He always had that strength and size advantage. Now, he'll probably be stronger than me in this fight, I don't doubt it. Because he lifts a lot of weights and he's doing his amino acids every morning and this and that. He's a real athlete. But I'm a bigger natural guy and he's not gonna have that advantage. So yeah, he's great and he's beaten a lot of competition. But he's had competition that has been suited toward him size-wise and skill-wise. This is a different matter.
"He can be as big as he wants," Bisping added. "He's still gonna be the smallest little shit that I've ever faced."
.
Comments
comments