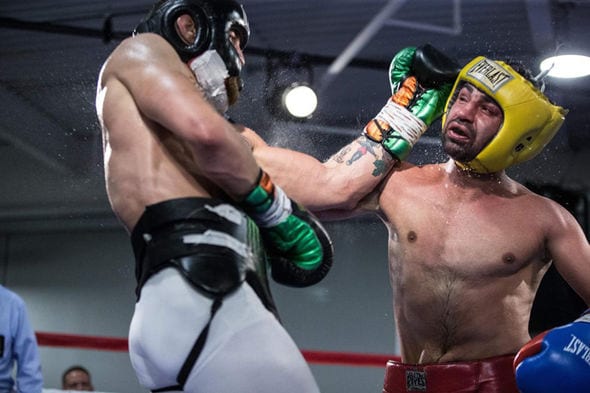 The biggest question in combat sports at the moment is who will Conor McGregor face upon his return to fighting.
Having been out of action since his contest with Floyd Mayweather in August of this year, McGregor has sat on the sidelines apparently deciding who will provide him with the best competition on his return.
Naturally, fans have an opinion on who that return should be. Some point to Tony Ferguson, the current UFC interim lightweight champion. Others point at Nate Diaz, with whom a rubber match could break UFC records and be the biggest MMA fight to date. Few, but a number nonetheless, would look to keep McGregor in boxing, and settle the grudge with Paulie Malignaggi.
Since the retired boxer left McGregor's training camp ahead of McGregor vs. Mayweather, Malignaggi has repeatedly mentioned the Irishman's name in an attempt to get a fight booked. Recently, he went on record as saying that legendary boxing manager Al Haymon was in talks with UFC president Dana White about getting a deal made.
Whit was news to Dana White, apparently.
"Do you think people really want to see Conor vs. Paulie Malignaggi?" White said, speaking on the Real Quick with Mike Swick podcast. "People want to see Conor fight in MMA, man. That's what they want to see. Listen, the Mayweather thing was a one off. Fucking crazy deal. But this is where he belongs, this is the sport he's in, this is the sport he excels in and he's the world champion. This is where he needs to be.
"Paulie Malignaggi never says shit that isn't true," White added, sarcastically.
According to White, he saw enough in the (now infamous) McGregor/Malignaggi sparring sessions to prove that any contest between the two would be a waste of time — and bad for Malignaggi's long term health.
"Why did Paulie Malignaggi get up and walk out of camp after two sparring sessions?" White said. "Because it was the right fucking thing to do. Because he was going to get hurt. Because he was going to take damage that was going to affect him for the rest of his life that he didn't need to take. It's not like they were paying him big money or he had a fight coming up himself.
"Paulie Malignaggi got up and left camp, and he should have got up and left camp, because Conor was going to fucking hurt him badly. It's no disrespect to the guy. It's a fucking fact. I was there, I watched the whole sparring session. That guy needed to go home, and he needed to leave Las Vegas."
Comments
comments