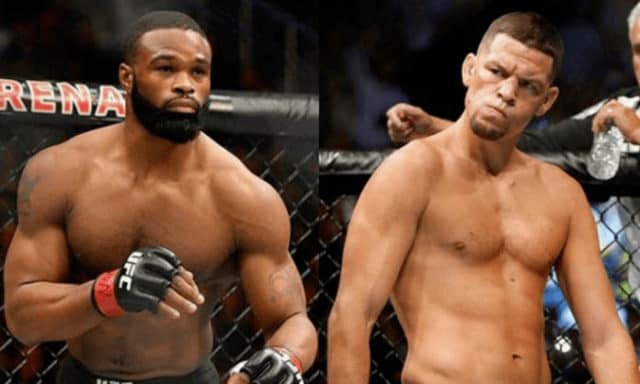 The return of Nate Diaz to active mixed martial arts competition appears closer than ever today after he confirmed to ESPN the he is eyeing an imminent comeback — and has his sights fixed on welterweight champion Tyron Woodley.
Diaz hasn't set foot in a UFC cage since losing a majority decision to Conor McGregor in August 2016. Since then the Stockton native has been content to sit on the sidelines and occasionally stoke the flames of resuming his fight career but with a new year upon us, Diaz says that he is "ready to rock and roll" in 2018.
The success of Diaz's two fights with McGregor significantly elevated the Californian's status as a so-called 'money fight' within the UFC's roster, leading to various names — notably Eddie Alvarez and Kevin Lee — attempting to goad him into a bout at 155-pounds. However, it appears that his return may come at welterweight, the weight class in which he fought his two bouts with McGregor in 2016.
Diaz says he is open to a meeting with Tyron Woodley, noting that the welterweight champion appears to mention him in numerous media appearances.
"I'm getting to the point where I'm sick of not fighting. I'm not getting any younger," Diaz said as quoted by ESPN. "I put that tweet out saying I wanted to fight in May or June, but I didn't say who because I was weighing my options. And now, Woodley is my best option.
"I see him on TMZ every week, talking about me. I'm like, 'What the f—? If that's what you want to do.' It's not really my weight class, but I'm with it. I think it's my title we're fighting for. If he's the one calling me out, whose title are we fighting for? Who's the real champion here?"
As for when the Diaz comeback may occur, he says he would be ready for UFC 226 on July 7th in Las Vegas.
"I'd like a good two or three-month camp," Diaz explained. "We'll figure it out. There's definitely going to be something. I'm trying to fight."
Yesterday, Woodley announced that he believes that a fight with Diaz is next for him. In fact, Diaz went further by saying that the UFC attempted to book the bout in December.
"[The UFC] called me out of nowhere, when I wasn't trying to fight nobody," Diaz said. "They asked if I would fight Woodley and I said, 'Well, I'd like a three-month camp.'
"I told them I'd fight him on shorter notice, but would send them what I wanted in the contract. It was nothing out of the norm. My boxing coach said something about $15 million in an interview, but that was never the number.
"Then I saw in the media, the UFC said they never approached me about it. I was like, 'F— it then. I wasn't the one asking for the fight.'"
However, it appears he might be doing just that this time around.
Comments
comments